The Peter Discovers Bisexuals
Jim Burroway
August 21st, 2009
That's right. There are bisexuals among us. And Peter LaBarbera found a "homosexual newspaper" that was willing to admit it. One can only guess what Peter thought the "B" in LGBT stood for. At any rate, it seems he's still struggling with the concept. His headline? "Half of Homosexuals Are Bisexual".
Follow Up on Brett Vanasdlen
Timothy Kincaid
July 16th, 2009
During the attention given to the debate in Congress over the Matthew Sheppard Hate Crimes Bill, I was reminded of the story of Brett Vanasdlen, the young man in Champaign, Illinois, who was charged with a hate crime in 2008.
We reported the story, but we didn't fully follow up. Here's where we left it:
Stephen Velasquez was walking with friends at 1:00 am. Another young man, Brett Vanasdlen, saw him and made a bigoted remark.
According to Velasquez, he responded, "How ignorant was that?" and kept walking. According to Vanasdlen, Velasquez grabbed him and started screaming, "What did you say" in his face.
In both stories, Vanasdlen threw Velasquez to the ground where he was knocked out, suffered head trauma, and was taken to the hospital.
Vanasdlen was arrested and charged with a hate crime.
Vanasdlen's mother appealed to Anti-Semite Ted Pike and former KKK leader David Dukes for support and they ran her version of events on Dukes' white supremacist website. Peter LaBarbera picked up the story from them (changing Pike to a "pro-family activist") and sold it to conservative circles. The story spread as an example of how a conservative Christian "strapping, clean-cut, All-American looking young man" was victimized by a homosexual with brown skin through the use of hate crimes legislation.
White supremacists and anti-Semites throughout the country began including Vanasdlen as an example of the current indignities suffered by the "white race". Anti-gay religious groups used it as an example of why gay people should not be protected by hate crimes.
Peter LaBarbera was probably most vocal about this story. And he was quite critical of the skepticism expressed by those of us who doubted Vanasdlen's saintliness.
We'll see how this story plays out as Tim, ExGayWatch, BTB, Pam and the rest of the "queer" spin machine so eagerly paint a false picture of young Brett as a violent "gay basher" to further their misguided crusade.
Peter pledged to one and all that "AFTAH will be following this case closely."
So today I turned to LaBarbera's site to see whatever happened to Brett Vanasdlen and his campaign to clear his name. But I found nothing. No mention at all of the outcome.
So what happened? Did the courts clear him? Did witnesses come forward to declare that the "strapping, clean-cut, All-American looking young man" had actually been the victim and brown homosexual Velasquez was the "the real aggressor"?
Well, no.
On September 9, 2008 Brett Vanasdlen pled guilty to battery and the hate crime charge was dropped.
Defendant ordered to pay restitution in the amount to be determined at a later date.
Sentence: 09/08/2008
Sentence: Fines and/or Cost/Penalties and Fees
Sentence: Court Supervision 24Mos Supervised Court Service
Sentence: Anti-Crime Assessment Fee
Sentence: Public Service 200Hrs Supervised Court Service
Sentence: Substance Abuse Treatment/Evaluation 60Days
Sentence: Partner Abuse Intervention Program 60Days
Sentence: Count(s) dismissed.
I guess it's no wonder that LaBarbera kept silent about the resolution to this case. Martyrs are much less effective when they plead guilty.
Welcome to My Fraudulent Religion, Please Pay Tithes
Timothy Kincaid
June 4th, 2009
In a moment of bitter spitefulness, Peter LaBarbera sent an email to Jeremy Hooper, our friend who humorously tracks (and mocks) the nuttiness that is the hallmark of anti-gay activism at his site GoodAsYou.org:
After offering his ill-wishes for Jeremy's upcoming wedding (yes, really), LaBarbera takes a swipe at gay Christians:
Homosexual behavior is always wrong, which is why the phrase "gay Christian" is so odd. Attaching it to the noble institution of marriage only compounds the sin. Just remember that it's never to late to repent of this behavior, to humble yourself and embrace Jesus Christ through faith – and move on with your life in a way that is pleasing to God. Tim Kincaid's pro-"gay" version of (c)hristianity is a fraud – don't believe it. God bless.
Wait, what?
I have my own fraudulent pro-"gay" version of (c)hristianity? Where's my mega-church? When do I get to buy three mansions and a lear jet?
But no. Alas. I've not started my own religion – with or without odd spelling and scare quotes. I just report my observations on the scholarly work of others, the conflict between Christ's commandments to love and anti-gay theology's political campaigns to make the lives of gay people more difficult, and the ever growing movement towards full inclusion of gay men and women into the life of the mainstream Christian church.
However, if you feel the need to send tithes to me, I won't argue with you.
MAINE GETS MARRIAGE
Timothy Kincaid
May 6th, 2009
Governor Balducci signed the marriage bill.
From the San Jose Mercury News (who, for some reason reported the story first)
Gov. John Baldacci has signed a bill making Maine the fifth state to allow gay marriage.

Earlier in the day, the Maine Legislature gave final approval to gay marriage and sent the bill to Baldacci, who had been undecided on the issue.
What Happens Next
If this were a bill without opposition, it would come into effect 90 days after the end of the legislative session. However Michael Heath, executive director of the Maine Family Policy Council, has already announced that he will seek a "people's veto" of the legislation.
A people's veto works like this: After the end of the legislative session (probably some time in June), Heath can begin collecting signatures. He needs 10% of the last gubernatorial vote, or 55,087 valid signatures. If Heath gets enough signatures, the bill will not go into effect until it has been presented on the November ballot for an up or down vote. Yes means keep the bill, No means veto it.
Although Heath will have 90 days to collect signatures, he must present the signatures no later than 60 days before the vote, around September 3rd. Thus, may be a strange window in which signatures can be collected but in which they will not count towards forcing a vote.
Which raises a question. Were Heath to present signatures on, say, September 5 and were that day within 90 days of the end of the legislative session, would that place a stay on the enactment of the bill until the following election in the spring of 2010? While that might be a "dirty trick" that could momentarily work in Heath's favor, it may in the long run prove to be detrimental. As time goes by, it is increasingly likely that attitudes in Maine will favor equality. This will be especially true as no dire consequences result in Vermont, Connecticut, or Massachusetts. Heath's window of possible success may close.
As it is, Heath may have a rough go. Attitudes seem fairly even in Maine but Heath has a rather bad reputation in the state dating from his attempts to identify and out gay legislators. His requests for "tips, rumors, speculation and facts" resulted in a temporary ouster from the Christian Civic League (a previous name of the Maine Family Policy Council) and a significant amount of bad press.
Heath may well be an advantage for us. He tends towards extremism and outrageous hyperbole. Additionally, it looks as though Peter LaBarbera may be a part of the effort.
Day of Silence and Various Responses
Timothy Kincaid
April 13th, 2009
In an effort to reduce bullying and to encourage tolerance, the Gay, Lesbian, and Straight Education Network created a program called The Day of Silence in which students show their sympathy for harassed gay students by pledging to be silent for a day. Those who "oppose the homosexual agenda" have responded in a number of ways.
I will briefly compare the various responses:
Sponsor: Gay, Lesbian, and Straight Education Network
Participants: Hundreds of thousands of students in over 8,000 schools
Purpose: The Day of Silence's purpose is to bring attention to anti-LGBT name-calling, bullying and harassment and effective responses.
Date: Friday, April 17, 2009
Length of Program: Thirteenth year
Process: Participants take a day long vow of silence and distribute or wear speaking cards with information about anti-LGBT bias and ways for students and others to "end the silence." Through Breaking the Silence events, which are typically held at the end of the school day, students can speak out against harassment and demand change for their schools and communities. Students do speak when required by class participation.
Message: What are you doing to end the Silence?
Handout:
Please understand my reasons for not speaking today. I am participating in the Day of Silence (DOS), a national youth movement bringing attention to the silence faced by lesbian, gay, bisexual and transgender people and their allies. My deliberate silence echoes that silence, which is caused by anti-LGBT bullying, name-calling and harassment. I believe that ending the silence is the fi rst step toward building awareness and making a commitment to address these injustices. Think about the voices you are not hearing today.

What are you going to do to end the Silence?
Response to Objection: In high schools, approval from the principal or other appropriate staff is important when student organizers are working on any project. When approaching your school's administration, it helps to have the backing of a student club and its advisor(s). If your administration does not approve of or support the Day of Silence, you may want to consider planning a community event outside of school, in the morning or evening.
Theme: To draw attention to the abuse or bullying of GLBT people who are often silenced by social disapproval and unable to defend themselves alone.
Sponsor: Created by the Alliance Defense Fund. Currently administered by ex-gay group Exodus International.
Participants: Up to 13,000 students
Length of Program: Fifth year
Stated Purpose: The Day of Truth was established to counter the promotion of the homosexual agenda and express an opposing viewpoint from a Christian perspective. (It is a direct response to the Day of Silence).
Date: The Day of Truth is scheduled for April 20, 2009. This is three days after GLSEN (The Gay, Lesbian, Straight Education Network) will sponsor the "Day of Silence."
Process: Participating students are encouraged to wear Day of Truth T-shirts, pass out cards, tell students about the evils of homosexuality, and inform same-sex attracted students about reorientation programs.
Message: It's time for an honest conversation about homosexuality. There's freedom to change if you want to. The truth cannot be silenced.
Handout:
I'm speaking the Truth to break the silence.
True tolerance means that people with differing — even opposing — viewpoints can freely exchange ideas and respectfully listen to each other.
It's time for an honest conversation about homosexuality.
There's freedom to change if you want to.
Let's talk.
Response to Objection: If the principal or other school official asks you to stop, stop immediately. Please call 1-800-TELL-ADF so that we can help resolve the situation quickly.
Theme: Rather than encourage gay-specific anti-bullying programs, gay students should be encouraged to enter ex-gay programs.
Sponsor: A long list of anti-gay activist groups including Americans for Truth (Peter LaBarbera), Liberty Counsel (Matt Barber), Mission: America (Linda Harvey), and SPLC-listed hate groups MassResistance, Illinois Family Institute (Laurie Higgins), and Abiding Truth Ministries (Scott Lively).
Participants: unknown number of parents. In 2008, 600 students were kept home from a school in Washington
Length of Program: uncertain, perhaps second year
Stated Purpose: To actively oppose this hijacking of the classroom for political purposes and no longer passively accept the political usurpation of taxpayer funded public school classrooms through student silence
Date: April 17, 2009, the same day as the Day of Silence
Process: Parents are encouraged to express their opposition to the Day of Silence by calling their children out of school on that day and sending letters of explanation to their administrators, their children's teachers, and all school board members.
Public school teachers are encouraged to plan activities for this day that involve student speech: Schedule speeches or oral exams; ask questions; or plan discussion-based activities
that require participation from all students.
Church leadership is encouraged to follow the bold example of Pastor Ken Hutcherson who vocally opposed the "Day of Silence" in his community in Redmond, Washington. (Hutcherson is threatening to oppose school bonds if Mt. Si allows students to participate in the Day of Silence again this year).
Message: Students being silent is disruptive and ought not be tolerated.
Handout: none indicated.
Response to Objection: Explain that school districts lose money for every absence, which may help convince administrations and school boards that it is not merely unethical but fiscally irresponsible to allow the classroom to be used for political purposes.
Theme: Fighting the homosexual agenda.
Sponsor: Dr. Warren Throckmorton, with some support from Campus Crusade for Christ Regional Director, Michael Frey and Bob Stith, National Strategist for Gender Issues, Southern Baptist Convention.
Length of Program: Second year
Stated Purpose: To provide a response for Christian and conservative students who do not affirm homosexual behavior but also loathe disrespect, harassment or violence toward any one, including their GLBT peers.
Date: April 17, 2009, the same day as the Day of Silence
Process: To answer the Day of Silence's question with a commitment the safety of GLBT students and peers as well as other who appear different based on the teachings of Christ.
A variety of options exist on the DOS, including silence. Whatever option one chooses, we do not encourage protests, divisive actions or criticism of others. One way to live out our faith is to treat others fairly and with respect.
Message: Do to others as you would have them do to you. (Luke 6:31).
Handout:
This is what I'm doing:
I pledge to treat others the way I want to be treated.
Will you join me in this pledge?
"Do to others as you would have them do to you." (Luke 6:31).
Response to Objection: None indicated.
Theme: To draw attention to the appropriate response of Christians when they are asked for respect and protection.
UPDATE: The previous version listed Americans for Truth (Peter LaBarbera) as a hate group and did not list Illinois Family Institute (Laurie Higgins) as such. These have now been reversed.
Wingers On Parade: Reactions To Vermont
Jim Burroway
April 8th, 2009
We did this following the Iowa Supreme Court decision. Now it's time to look at reactions to the Vermont legislature's decision to allow same-sex marriage. Wouldn't it be great if this could become a regular series?
Anti-gay activists pounced immediately with their talking points when the Iowa Supreme Court released their opinion, but Right Wing Watch noticed that it took quite a while for anti-gay activists to react to the Vermont vote. Probably because couldn't reflexively blame "activist judges."
But several hours later, reactions slowly began to trickle in. So guess what? It's not "activist judges," it's a breakdown in democracy. Focus On the Family detects a "mysterious" conspiracy afoot:
Thanks to several legislators who mysteriously changed their votes over the weekend, Vermont has become the first state to radically change the definition of marriage through the legislative process.
Sounds nefarious, doesn't it. Like it's some sort of threat to destroy democracy or something. The Liberty Counsel's Matt Staver is also reading from the same playbook, calling a vote by two legislative chambers made up of duly elected representatives of the people "tyranny":
By redefining marriage, the Vermont legislature removed the cornerstone of society and the foundation of government. The consequences will rest on their shoulders and upon those passive objectors who know what to do but lack the courage to stand against this form of tyranny.
The Catholic League's reaction defines the word "apoplectic." Vermont's exercise in democracy apparently doesn't count because it's Vermont:
Vermont is a lily-white state populated by left-wingers who are anti-traditional marriage and anti-family. Exactly what we would expect of a population where more people believe in nothing than anywhere else in the nation.
But not everyone was on the same page. Austin R. Nimocks, an attorney with the Alliance Defense Fund, took a different route.
The institution of marriage has predated the legislature and government and the United States, and it's not the prerogative of anybody to redefine it. It is the prerogative of every state and U.S. citizen to uphold the institution as it has always been defined, as one man and one woman."
As it was always defined? I think Nimocks needs to study up on his Bible, because just off the top of my head I know that King David, who unlike Nimocks was divinely appointment, had eight wives. Solomon had seven hundred.
Matt Barber isn't thinking representative democracy either. He labors under the mistaken impression that we're in a theocracy:
"How long can a nation founded on the laws of nature and nature's God expect to find favor in his eyes when we continue to mock God?"

…"I believe that the purveyors of evil around the country feel emboldened right now with the current political climate in Washington, DC," Barber states, what with both the Oval Office and Congress inhabited by "people who are bent on thumbing their nose at God."
But at least we can count on Peter LaBarbera to know exactly where to lay the blame. It's not activist judges or rogue legislators. It's the American people:
A northeastern state, Vermont, has voted in homosexual "marriage" — through an override of the governor's veto, no less.  This profane legislative act cannot be blamed on reckless judges or "unelected courts." No, this instead is reckless, godless liberalism in action…

Most Americans have gotten too comfortable with same-sex perversion (we at AFTAH reject the activist concept of innocuous, innate "sexual orientation") and extramarital sex. … It's asking too much of God to "bless America" when America is blessing the counter-Biblical idea of state-sanctioned, homosexually-redefined "marriage.
Wingers On Parade: Reactions To Iowa
Jim Burroway
April 3rd, 2009
Today's Iowa Supreme Court ruling, which struck down the portion of that state's marriage law restricting marriage to heterosexuals, has provoked an entertaining assortment of reactions from the usual characters. Here are just a few examples.
First up, Matt Barber. He now has a title that is longer than the queen of England ("Matt Barber, Director of Cultural Affairs with both Liberty Counsel and Liberty Alliance Action, and Associate Dean with Liberty University School of Law"). I like his reaction because it fits perfectly with other ridiculous arguments which inspired the very name of this web site. Barber blathers:
U.S. Supreme Court long ago rejected the untenable notion that 'equal protection' requires two biologically incompatible persons to be permitted to 'marry.' Marriage, of course, by its very spiritual, historical and biological nature, requires binary compatibility. It is no more discriminatory to disallow two men from marrying each other, than it is to prohibit a man from marrying his house plant.
That's right. We now have the potted plant argument, which I guess is appropriate coming from him. Since the Box Turtle reference may be getting old, maybe we should rename this web site "Pansies for Pansies.com" in Barber's honor.
Next up, Randy Thomasson. He's demanding the most rigorous constitutional amendment ever devised by man or beast:
…Iowans should write a rock-solid marriage amendment, one that is much stronger than amendments in California, Oregon and Washington, which still allowed counterfeit marriages and immoral policies forcing insurance plans and private businesses to subsidize pseudo-marriages. Iowans should also take care to prevent the civil institution of marriage from being someday abolished, and must biologically define a man and a woman to ensure that the distinct, God-given genders of a husband and wife cannot be perverted.
owa Rep. Steve King (R-Kiron) wants more than just a constitutional amendment. He also wants to prevent Iowa from becoming a "gay marriage Mecca":
Along with a constitutional amendment, the legislature must also enact marriage license residency requirements so that Iowa does not become the gay marriage Mecca due to the Supreme Court's latest experiment in social engineering.
Concerned Women for America aren't interested in tinkering with laws or constitutions. Instead, they call for the establishment of a theocracy:
Until we rightly handle these issues in God's house, we will continue to fail in the court house, the state house and the school house. George Washington warned us it would be impossible to rightly govern without the Bible, until we repent and return to those same principles, we will fail to properly govern and succeed as a nation.
And finally, our favorite. Peter LaBarbera gets a two-fer. First, there's this post on his web site:
Today Iowa becomes the first state not on either of the nation's two liberal coasts to impose counterfeit, homosexual 'marriage' or its mischievous twin, 'civil unions' on its citizens through judicial tyranny. To call this decision bankrupt is to understate its perniciousness. The evil genius of the pro-sodomy movement is that it targets noble institutions like marriage and adoption in the name of 'rights,' and then perverts and uses them to normalize aberrant and destructible behaviors.
In LaBarbara's mass email which also included the above statement, he added:
If the people do not respond in righteous anger coupled with effective action, the downfall of our beloved nation is assured — because God (who invented marriage) is not mocked.
You know, there's a reason we have an award named for him. One excellent nominee for that award might be one Craig Overton, whose sign was so embarrassing to gay rights opponents that they urged him to put the sign down. It read "Same sex animals don't mate. God Bless. Culver man up." Overton refused to put the sign down.
Scott Lively: Following The Money
Jim Burroway
March 25th, 2009
How is a well-known Holocaust revisionist able to gain so much cooperation among other anti-gay groups? Let's follow the money.
Lively's Pro Family Charitable Trust is an arm of his Abiding Truth Ministries, which is one of only twelve anti-gay hate groups listed by the the SPLC. A quick look at the trust's contributions tell an interesting story:
NARTH received three grants totalling $2000.
The Jewish ex-gay group JONAH received a grant for $500.
Richard Cohen's International Healing Foundation received a grant for $500.
Peter LaBarbera received two grants totally $2000.
Watchmen On the Walls, a group that was co-founded by Lively, received a grant for $500. The Watchmen are also listed among the SPLC's twelve anti-gay hate groups.
Paul Cameron's Family Research Institute received a grant for $300. The FRI is another of the SPLC's anti-gay hate groups.
Exodus-Affiliated ministries receiving grants include Living Stones Ministry ($250), HIS Ministry ($500), and PFOX ($750).
Other notable recipients include San Diego ex-gay gadfly James Hartline ($500), Stephen Bennett ($500) and Linda Harvey's web site, Mission America ($400).
These must be considered minimum sums. The top grant is described as being the 31st grant on a page which only lists 28 grants, so this is clearly not a complete list.
It also appears not to be an up-to-date one either. Abiding Truth Ministry's 2007 IRS 990 form (PDF; registration required) from Guidestar.org lists:
an additional grant of $750 to Linda Harvey's Mission America,
an additional grant of $300 to James Hartline
a grant of $1750 to the Pro Family Law Center in Temecula, California, a project of Lively's Abiding Truth Ministries.
Some of these values may not look like much, but most of these groups operate on a shoestring budget. Some are little more than volunteer operations much like our own vast conspiracy here at BTB (which consists only of a web site and four volunteers). So to many of these outfits, these contributions can be significant. Maybe that's why Peter LaBarbera has been carrying Lively's water the past few weeks.
[Hat tip: Warren Throckmorton]
Porno Pete Brings Deliverance To Ohio
Jim Burroway
February 10th, 2009
Peter LaBarbera called out his minions to protest an S&M conference taking place in the Columbus, Ohio suburb of Worthington. Here's who turned out:
"Is it a homo paper?" asked a scruffy 50+ man who spoke broken English with an Appalachian twang. In one hand he waved a large sign with the anagram "Gross Anus Yearning Sodomists" (whatever in the world that means) and in the other, he had two naked Ken dolls taped together in the position commonly referred to as "doggy style".

(Imagine, a grown man buying two Ken dolls, stripping them down, brainstorming the most pornographic position for them, then taping them together. They were taped pretty tightly, too, with clear tape, so you know he spent a lot of time on it. This image would be hilarious if they weren't so adamant about attributing their opinions to God himself.)
Now for the record, I grew up in Appalachia and I do still enjoy going home whenever I can. I'm not a fan of the stereotypes, and I always thought the movie Deliverance was little more than a 109-minute running cheap shot. But even though I still have something of an Appalachian twang left in me (at least, what hasn't been corrupted by my fifteen years in Dallas), I'll let that go this time. Go ahead and cue the banjos. He deserves it. He's got less sense than God gave fleas.
The reporter continues:
…The two women picketing alongside him swarmed me. "If you hate this then you hate god!" said the first woman, brandishing her sign towards me. She preached the loudest of them all. As she also refused to give her name, and owning to her frazzled grey hair and pious hatred, we'll call her Carrie's Mom. (Seriously, her resemblance to the Stephen King character was uncanny.)

The second woman, who looked like your grandma only with a heart full of hate, was more diplomatic in her explanation of the protest. "We don't hate homos," she explained, her voice full of pity. "We just don't like them having a conference here."
Because The Peter was coy with the facts, his faithful readership had their own facts completely screwed up. The S&M conference full of "homos" they were all upset about? It's actually being put on and attended mostly by heterosexuals. In other words, it's mostly straight people who are doing god-knows-what in a closed off wing of the hotel with three layers of security so no wandering innocents could accidentally stumble in  — yet it's "the homos" who are getting the blame.
Yes, I know. Buried in there somewhere, The Peter belatedly acknowledged that this isn't "a homo" event. But when all you talk about is homosexuals and you name your keyboard "Americans For Truth About Homosexuality" with no apparent ironic intent, and you talk about this event without actually describing who is putting it on and who is attending it, then you can't be too surprised if some of your readers draw their own conclusions.
Which may be why "Carrie's Mom" sees this event as more evidence of the end of days:
"There's other people who are going to use those conference rooms!" she said, her hysteria almost tangible. "This kind of behavior will bring a civilization to its knees–with the baby killing and the sodomy!" she said, quoting scripture verses and shaking her head at me. She cited the current economic crises as proof that "the homos" were single-handedly responsible for the near-collapse of Capitalism and the global economic system.
Good Lord! As my great-great aunt used to say, these people don't have one particle bit of sense. From now on, whenever I see The Peter use the word "Deliverance" in connection with homosexuality, it will always have a completely new meaning.
Smart crowd you draw there, Pete. You made 'em madder'n a wet hen. I'd think you'd be proud of yourself for being so influential. So why are you suddenly acting so embarrassed?
Heterosexual Menace: The Real Threat In Schools
Jim Burroway
February 3rd, 2009
Peter LaBarbera has his hair on fire over openly gay Ron Huberman being named CEO of Chicago's public schools. He's afraid that Huberman's appointment will send a message that being gay is "normative to impressionable Chicago students." Perhaps LaBarbera should show more concern about some very direct messages — in the form of text messages — that some educators are sending to young impressionable students:
49-year-old female teacher from a Phoenix elementary school was arrested at a hotel Saturday after luring a 14-year-old boy there through text messages that portrayed herself as a sexually active teenager, according to the Maricopa County Sheriff's Office. Rosanna Brown of Chandler, an English teacher at Ed Pastor Elementary School, 2101 W. Alta Vista Road, admitted to having sexual relations with the boy, according to the sheriff's office.

… Brown had checked into the hotel on Saturday and when the boy arrived at the hotel, he claimed the room was dark, and believed he was having sex with a teenage girl, [Sheriff Joe] Arpaio said. But then the boy realized it was his English teacher, Arpaio told the Tribune.
You can read more about the misery and emptiness of the heterosexual lifestyle here and in our report, "The Heterosexual Agenda: Exposing the Myths."
Newsweek Essay Draws Howls of Protest
Jim Burroway
December 9th, 2008
Anti-gay activists are pulling their hair out over Lisa Miller's essay in Newsweek, in which she lays out a religious case for same-sex marriage. She opens her essay by saying, "Opponents of gay marriage often cite Scripture. But what the Bible teaches about love argues for the other side."
As you can imagine, that didn't go over well with one particular segment of Christianity. Albert Mohler, president of The Southern Baptist Theological Seminary and a member of the Focus on the Family Board of Directors, wrote:
Many observers believe that the main obstacle to this agenda [of allowing same-sex marriage] is a resolute opposition grounded in Christian conviction. Newsweek clearly intends to reduce that opposition."
That was one of the calmer reactions. Tony Perkins of the Family "Research" Council denounced it as "yet another attack on orthodox Christianity." The Donald Wildmon of the American Family Association called it "one of the most biased and distorted pieces concerning homosexual marriage ever published by any major news organization." Not surprisingly, he also is calling on his followers to inundate Newsweek with emails.
And Peter LaBarbera, not one to be outdone, called the essay a "scandalous hit piece" and an "embarrassing attempt to make a Biblical case for sodomy-based 'marriage.'" (See why we have an award named in his honor?) And Peter's pal, Matt Barber responded, "You know, scripture says woe to those who call evil good and good evil, and I say woe to Newsweek for even printing this drivel."
Part of the outrage stems from the fact that anti-gay activists have tried for years to couch their opposition to same-sex marriage on sociological research to make their point — research that, as we have pointed out many times, they have distorted with amazing consistency. But by calling on science instead of the Bible, they seek to inoculate themselves from charges of trying to impose their religious views on others. "See? We're not religious zealots. Science supports us," they like to say. Richard Land, of the Southern Baptist Convention's Ethics and Religious Liberty Commission, repeated this line in saying, "The arguments that are used are often not biblical arguments. They are secular arguments, arguing about marriage as being a civic and a social institution, and that societies have a right to define marriage." And Ralph Reed, former head of the Christian Coalition, claimed, "We're not trying to take the Bible and put a bill number on it and legislate it."
But when they are talking among themselves, religious arguments are firmly at the fore, whether it's LDS Elder M. Russell Ballard speaking of the "central doctrine of eternal marriage" or Richard Land himself explaining with an apparently straight face that what he calls the global warning "hoax" is simply due to "cycles of nature that God has allowed in the cosmos." Neither of these positions sound very scientific to me.
But the religious face is not the public face that these religiously-motivated leaders want to present. And by having to respond to Lisa Miller's essay, they are forced to publicly defend the religious basis for their beliefs, which annoys a few of them to no end.  Watch how Concerned Women for America's Janice Shaw Crouse pivots when asked about the Newsweek essay:
"Beyond the Scriptural distortion, the article distorts the pro-marriage and pro-family movement that is solidly grounded on sociological research about family structures that contribute to the well-being of women and children."
She then goes on to mischaracterize what "experts agree."
But the other part of the outrage also seems clearly aimed at someone who really did intrude onto their home turf. After all, in the same-sex marriage debates, only one small group of Christians are presumed to be allowed to use the Bible — when they think nobody else is looking. Anti-gay activists behave as though the Bible is solely their possession and no one else's — including other Christians who read the same Bible and come to different conclusions. It's okay for anti-gay opponents to turn outside their own sphere of authority — science — to make their point. But now that Lisa Miller has taken them on in their own home turf, they've let loose with their persecution complex and complained that they– and by extension all of Christianity, since they presume to speak for all Christians – have been "attacked." 
Which reminds me of a great and appropriate graphic making its way around the Internet:
Folsom Street Fair Organizers Make Questionable Claim Against Americans For Truth
Daniel Gonzales
September 22nd, 2008
Peter LaBarbera of Americans For Truth and I may disagree on pretty much everything related to sexuality but something we both share is the fact we're activists who rely on "fair-use" to expose and analyze things in the world we find objectionable.
In a recent analysis of Folsom, LaBarbera posted a digital copy of a congratulatory letter from Mayor Newsom to Folsom organizers as a one page excerpt from Folsom's 2008 Program Guide which he found particularly offensive and illustrated the focus of his analysis.
Folsom organizers took issue with this apparently as their attorney sent LaBarbera a cease and desist letter claiming intellectual property infringement. LaBarbera, aided by the American Family Association's General Counsel fired back calling their bluff, citing the "fair-use" clause of copyright law.
In this case I agree with Pete. Folsom's lawyers are full of shit.
Specifically, the letter from Mayor Newsom is not Folsom's property, it was written by someone at the Mayor's office and is a matter of public record in the public domain. According to the Digital Millennium Copyright Act misrepresenting ownership of intellectual property puts the person making the false-claim at risk. Per Wikipedia:
anyone who makes a false claim of infringement or false counter-notification is liable for the damages suffered by the other parties
It appears the only thing Folsom organizers have succeeded in is giving the appearance of legitimizing Mr. LaBarbera's attacks on them by allowing him to paint himself as the victim.
I contacted Folsom organizers to see if their side of the story differed from Pete's — our email exchange is below:
I'm a pro-gay activist and write for a website called BoxTurtleBulletin.com which tracks and monitors the religious right. Recently it came to my attention that the anti-gay group Americans For Truth is claiming your lawyers sent them a cease and desist letter relating to their use of Folsom St. Fair promotional materials. The full article is online here:

http://americansfortruth.com/news/so-much-for-leather-pride-folsom-

organizers-try-to-stop-aftah-from-exposing-their-vile-event.html

Based solely on Peter LaBarbera's account it appears he is well within the realm of fair-use and your lawyer's claims have no ground are designed only to intimidate him.

Before blogging on this I would appreciate your side of the story.

Thanks,
Daniel Gonzales
Folsom's response:
Daniel,

Thanks for your email. While AFTAH claims fair use, that doesn't mean it is fair use. There are specific legal criteria by which fair use is gauged. And, there are actually pretty severe limits placed on the amount of a work that can be reproduced under the fair use rule. We state clearly in our Guide: "Reproduction in whole or in part without permission…is prohibited." That said, we apparently disagree on the issue which is why we are pursuing it. There is no intimidation involved here.

Demetri Moshoyannis
Executive Director
LaBarbera's Incoherence on Hate Crimes
Jim Burroway
July 30th, 2008
Peter LaBarbera thinks that the media attention surrounding the Knoxville shooting "proves" that hate crime laws aren't necessary. According to the American Family Association's OneNewsNow:
The pro-family advocate adds that the homosexual movement gets favorable treatment within the media, and LaBarbera says with that type of coverage there is no need for special legislation to "give more attention and better treatment to this case." He adds that with the media spotlight on the incident, "it proves our case" that hate crimes laws are not necessary.
The tortured logic behind this statement is astounding. LaBarbera constantly complains that gays are getting "favorable treatment" in the media. Now he says that gays don't need hate crime protections because of that treatment. But if the media acted the way LaBarbera wants them to act – by only portraying gays and lesbians in a negative light – would he then agree that maybe hate crime protections are warranted? Don't count on it.
Besides, here's a news flash for LaBarbera. The FBI is already investigating this as a hate crime.
Why? According to Stacie Bohanan, spokeswoman for the FBI's Knoxville division, "Anytime someone uses force to obstruct another person in the free exercise of their religious beliefs, that becomes a violation of the federal civil rights statutes."
And according to police reports, it certainly appears that Jim David Adkisson targeted the church because of its "liberal" beliefs, which just happen to include a safe and welcoming haven for gays and transgender people.
So ironically, if authorities decide that Adkisson is guilty of a hate crime, it will be because he committed a crime based on the victim's religious beliefs, which is protected. It's the same protection that everyone enjoys, not just religious minorities. In 2006, the FBI recorded 62 anti-Protestant hate crime incidents. Last I checked, Protestants were hardly a persecuted minority. But when the law covers religion, it covers all religions — even atheists.
But if this same shooting had happened instead at an LGBT community center, the FBI would nowhere in sight. The same crime targeted against a different community would be treated very differently under the law.
Now if people like LaBarbera were arguing that there should be no hate crime laws period, then that would be different. But I don't see him arguing that. He's only arguing that existing laws should not be extended to cover violent and property crimes motivated by sexual orientation. He claims that doing so would be some sort of "special" treatment under the law.
Well, as the law stands today, it is special treatment. LaBarbera's religious beliefs are protected under current hate crime laws.
And even if the law were changed to extend protections based on sexual orientation, LaBarbera would still be protected — perhaps even moreso. Because if he is ever straight-bashed in a violent crime or a property crime — as 28 other heterosexuals were in 2006, then the law would be there to protect him too.
But as long as The Peter continues to agitate against hate crime protections based on sexual orientation — and let's add gender identity and expression while we're at it — while complaining about "anti-Christian" persecution, then the only thing he's interested in is keeping "special protections" all for himself. And with that argument, he's either showing his ignorance or his hatred. Pick one.
Porno Pete Earns His Nickname
Jim Burroway
July 23rd, 2008
"Porno Pete" LaBarbera is at it again. He wrote a post in which he uses Catholic priestly celibacy as an argument against gays in the military. And you'd think that drawing a connection between the two would be the oddest thing you ever heard of, right?
Wrong. Here's the graphic Porno Pete used to illustrate his post:
Jeremy Hooper decided to investigate:
So where does one even find this ad elsewhere on the Internet? Well after digging for about half an hour, the only place we could track it down is on a site called "Gay Pervs," which is a links list to all kinds of porn sites…

And we weren't able to pull it up through a Google Image search or something like that. You have to actually go to the link and "investigate" in order to bring up the banner.
That's right. Porno Pete couldn't just call it up on a search engine. He actually had to know about this web site ahead of time.
I have a feeling Porno Pete's browser bookmarks are very, very interesting.
Most Pathetic Protest Ever
Jim Burroway
July 17th, 2008
The AFA's McDonalds boycott has started off with a resounding thud. Have you ever seen anything more sad?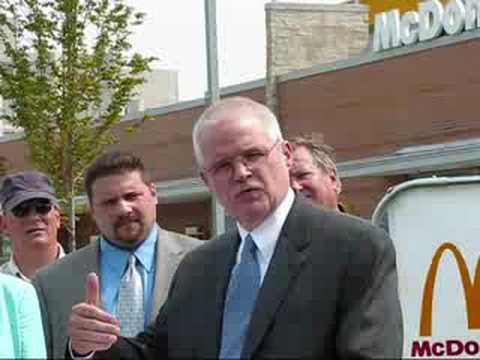 Study Links Virus to Rare Cancer In Heterosexual Men
Jim Burroway
July 8th, 2008
There's a headline you don't see every day. This is almost the mirror image of the study which sparked the MRSA panic last January: A virus that had been causing cancer in women and gay men has been found in straight men in pretty high numbers. It's just one small study though, just like the one that inspired worldwide headlines of a new killer superbug threatening homosexual men. So where's the panic this time? After all, HPV is one of the most common sexually transmitted diseases out there.
Paging Peter LaBarbera and Matt Barber…
LaBarbera Blames Gays for Heterosexual Beastiality Porn
Timothy Kincaid
May 31st, 2008
While Peter LaBarbera will grudgingly admit that some of the participants at the International Mr. Leather event held every Memorial Day Weekend in Chicago are heterosexual, he insists that this is mostly a gay male event. And that is probably correct.
And LaBarbera places the blame for the most extreme elements, those which he declares are most objectionable, squarely on gay persons or, in an exercise of extrapolation, on the gay community as a whole. He trots out his pictures and his descriptions as an evidence that gay people – and not just some small subset – are depraved, perverted, and satanic.
This year Pete's leading off his porno pic collection with a snapshot of a DVD display.
Note that we've covered up the pornographic images. The bestiality titles (e.g., "Goat Fever," "Amateur Animal 1," speak for themselves. "Scat," according to one online (and sexually explicit) "Robert Scott's Gay Slang Dictionary," refers to [*] "A gay male who gets sexual gratification from acts involving faeces." That is, excrement, which to us at Americans For Truth is proof that Satan is alive and well in this world.
I'm not sure that Satan was all that obsessed with poop; I couldn't find any references in Scripture that tied the two together. But I'm willing to concede that Pete may be on better terms with Satan than I am.
I was, however, able to find out some interesting information about the videos that Pete highlighted to titilate and horrify his readers. They are heterosexual.
Goat Fever involves a man, two women, and a (presumably female) goat. Amateur Animal 1 features "A couple with a blonde and german shepherd". (I'm not providing links but descriptions of these videos are available by Googling their titles).
Neither of these videos involve male-male contact. But you wouldn't know that from Pete's posting.
I did not do an exhaustive search of every DVD shown in his promo picture; my interest level in such matters is much lower than Pete's. But while it does appear that some of the scat DVDs are same-sex, the bestiality vids all seem to be evidence that if Satan is alive and well in this world, then he's decidedly pushing a heterosexual agenda.
UPDATE:
* As reader PiaSharn correctly noted, this is not the definition of "Scat". This is, rather, the definition of "Scat Queen". Although LaBarbera prefers a definition that starts with "a gay male", scat is actually a fetish that is practiced among heterosexuals as well and does not appear to be more common among homosexual fetishists than heterosexual fetishists.
Peter LaBarbera Celebrates Memorial Weekend at Leather Event
Timothy Kincaid
May 30th, 2008
This past weekend I went to Disneyland. It was a little rainy so the lines were short and we had a wonderful time. The next day we went to The Magic Castle for a great meal and to be amazed by prestidigitation. Throw in dinner at Saddleranch (so my friends could ride the mechanical bull), a walk on Venice Beach, and a showing of Indiana Jones and it was quite the gay weekend.
Meanwhile, Peter LaBarbera was living up to his nickname and having quite another type of gay weekend. He spent his Memorial Day celebration at the International Mr. Leather competition in Chicago. IML is an event, mostly for gay men, that celebrates the leather community. It also appeals to fetishists including those whose sexual tastes run to the unconventional or peculiar.
IML really isn't my cup of tea – I tend to think leather is best when made into a belt or a pair of shoes. So it would never cross my mind to trek out to Chicago and spend my time in a hotel ballroom gawking at fetish porn.
But LaBarbera never misses a year.
And, yet again, Memorial Weekend found him oogling men in leather regalia and taking pictures of every bare butt cheek or risque poster he could find. Pete could hardly wait to get back to tell his buddy Matt "Bam Bam" Barber about all of the pig sex and watersports and "sodomy on steroids" that he found. Just think, gasp, of all the raunchy sex that was going on right in the very hotel where he was standing! Pete and Bam Bam almost worked themselves into a froth going on about anal sex and fetishes and all sorts of "satanic, depraved sodomitic orgies involving feces and urine".
Now I'm a tolerant guy. If you'd rather check out the Pecs and Personality contest than sail with the Pirates of the Caribbean, it's no business of mine. If your idea of fun is a boot shining contest rather than watching a really impressive card trick, who am I to complain?
But if you go, I have a word of advice: avoid getting your picture taken by LaBarbera. I don't even want to think about how Pete uses those pictures. Ick.
See also:
LaBarbera Blames Gays for Heterosexual Beastiality Porn
Porno Pete's Headline Of The Day
Jim Burroway
May 15th, 2008
Whenever I write a post, my worst struggle is with the headline. I'm rarely satisfied with what I come up with. In a word, I suck.
But at least my headlines aren't as bad as this one:
How Will California Homosexual Couples Consummate their Counterfeit 'Marriages'?
Poor Peter. His mind really is in the gutter, isn't it?
Anti-Christian Bigotry
Timothy Kincaid
May 14th, 2008
Today I ran across some anti-Christian bigotry of a particularly nasty sort. As I was recently accused by Peter LaBarbera of being an anti-Christian bigot, this caught my attention.
I'm including a selection here. I hope no one is offended as it is pretty hateful and vile.
yet another connection between the United Church of Christ (UCC) and perversion.
We hear that the UCC is still searching for a partnering church that cater to swingers.
For the sake of accuracy, we also recommend a name-change to UCS: United Church of Sodom.
Enough with this phony "Christ" talk.
We envision a host of liberal Protestant mergers under the UCS banner beginning with proud homosexualist bishop (Vicky) Gene Robinson and his wayward Episcopal Church.
It's been quite a while since I've seen such a venomous attack on Christianity and Christian churches. But, surprisingly it wasn't atheists or agnostics that were spewing hate. It wasn't Wiccans or Muslims or "homosexualist Jews".
Nope, all this anti-Christian bigotry was brayed out by Peter LaBarbera. Ah Pete, it's no wonder you didn't accept our challenge to point out Box Turtle Bulletin's bigotry. You forgot that it was you who wrote it on your own site.