Take Action: Tell Uganda To Respect Human Rights And Dismiss the Anti-Homosexuality Bill
Jim Burroway
October 19th, 2009
The International Gay and Lesbian Human Rights Commission has issued an Action Alert, asking everyone to write to the Ugandan authorities to express your concern about their latest attempts to criminalize homosexuality and institute the death sentence in certain circumstances.
According to the text of the bill introduced in the Ugandan Parliament last week, the new law would:
Reaffirm the lifetime sentence currently provided upon conviction of homosexuality, and extends the definition from sexual activity to merely "touch[ing]

another person with the intention of committing the act of homosexuality."

Create a new category of "aggravated homosexuality" which provides for the death penalty for "repeat offenders" and for cases where the individual is HIV-positive.
Criminalizes all speech and peaceful assembly for those who advocate on behalf of LGBT citizens in Uganda with fines and imprisonment of between five and seven years.
Criminalizes the act of obtaining a same-sex marriage abroad with lifetime imprisonment.
Adds a clause which forces friends or family members to report LGBT persons to police within 24-hours of learning about that individual's homosexuality or face fines or imprisonment of up to three years.
Adds an extra-territorial and extradition provisions, allowing Uganda to prosecute LGBT Ugandans living abroad.
According to the IGLHRC, the bill's impacts are wide-ranging:
The bill effectively bans any kind of community or political organizing around non-heteronormative sexuality. It will lend itself to misapplication and abuse, and implicitly encourages persecution of LGBT people by private actors. HIV prevention activities in Uganda, which rely on an ability to talk frankly about sexuality and provide condoms and other safer-sex materials, will be seriously compromised. Women, sex workers, people living with AIDS, and other marginalized groups may also find their activities tracked and criminalized through this bill.
The IGLHRC provides contact information (email and phone numbers, where available) and a sample letter. You can also send a letter to Exodus, the International Healing Foundation, and Abiding Truth Ministries, as well as  and demand that they speak out on the latest outrage which stems from their representatives' participation in a three-day anti-gay conference in Kampala. The currently proposed anti-homosexuality bill is a direct result of that conference put on by Exodus International board member Don Schmierer, Abiding Truth Ministry's Scott Lively, and International Healing Foundation's Caleb Lee Brundidge. For more information on the role their activists played in this latest outrage, please see the links to our coverage at the end of this post.
Please send your letter to:

President Yoweri Kaguta Museveni
State House Nakasero
email: info@statehouse.go.ug

Prime Minister Apollo Nsibambi
email: ps@opm.go.ug

Speaker of the Parliament
Edward Ssekandi Kiwanuka
email: speaker@parliament.go.ug

Minister of Gender, Labour, and Social Affairs
Honorable Opio Gabriel
email: ps@mglsd.go.ug

Chair of the Uganda Human Rights Commission
Med Kaggwa
email: uhrc@uhrc.ug

Directorate for Ethics and Integrity
email: info@dei.go.ug

Chair of the Uganda Diplomatic Human Rights Working Groups
Mathisen Gørild
email: gorild.mathisen@mfa.no

Please also send a copy to:
Ambassador to the Republic of Uganda Embassy of the United States of America
Jerry P. Lanier
email: kampalawebcontact@state.gov

IGLHRC
email: communications+action.alert@iglhrc.org

Send an email and fax to:
Ambassador to the US
Perezi K. Kamunanwire
Fax: 1-202-726-1727
email: pkamunanwire@ugandaembassyus.org

Dr. Ruhakana Rugunda
Permanent Representative of the Republic of Uganda to the United Nations
336 East 45 Street
New York, NY 10017
Tel: 1-212-949-0110
Fax: 1-212-687-4517
email: ugandaunny@un.int

Sample Letter

Your Excellencies:

I am writing to express concern about legislation that would severely restrict the rights of Ugandan citizens, including lesbian, gay, bisexual, and transgender (LGBT) people and their defenders, in direct contravention of domestic and international law. The Anti-Homosexuality Bill of 2009 would not only reaffirm penalties for homosexuality, but would criminalize the "promotion of homosexuality," including funding and sponsoring LGBT organizations and broadcasting, publishing, or marketing materials on homosexuality. Any person in authority who fails to report known violations of the law within 24 hours will also be subject to a significant fine and up to 3 years in prison – even when this means turning in their colleagues, family, or friends.

The negative repercussions of the bill in Uganda will be immediate and severe. It effectively bans the free association and expression that are necessary for a flourishing civil society, and creates a climate of fear and hostility that undermines the citizenship and solidarity of all Ugandans. It will lend itself to misapplication and abuse, and implicitly encourages persecution of LGBT people by private actors. Effective HIV prevention activities in Uganda, which rely on an ability to talk frankly about sexuality and provide condoms and other safer-sex materials, will be difficult, if not impossible.

The Anti-Homosexuality Bill violates National Objective 5(2) of the Ugandan Constitution, which provides that "the State shall guarantee and respect the independence of non-governmental organizations which protect and promote human rights." Moreover, it directly violates the right to equality and freedom from discrimination (Article 21), the right to privacy (Article 27), the right to freedoms of speech, expression, association, and assembly (Article 29), the protection of minorities (Article 36), and the protection of civic rights and activities (Article 38) to which all Ugandans are entitled. It also violates the African Charter on Human and People's Rights, the International Covenant on Civil and Political Rights (ICCPR) and other international human rights treaties to which Uganda is a party. This bill undermines Uganda's commitment to the international human rights regime and threatens the basic human rights of all its citizens.

The Bill's revocation of fundamental rights would also seriously undermine the country's reputation and credibility in the international arena. Because it claims jurisdiction over Ugandans who violate its provisions while outside of the country, the Bill will strain Uganda's relations with regional and international partners.

While people may hold differing opinions about sexual orientation and gender identity, the legislation before Parliament is an ineffective and fundamentally illegal way to express opposition to a minority group. In recognition of the importance of a diverse, dynamic civil society and the domestic and international commitments that Uganda has made, I urge you to swiftly dismiss the Anti-Homosexuality Bill of 2009 and reaffirm the rights and responsibilities of all Ugandans.

Truly yours,
Name:
Organization:
Country:
Click here to see BTB\'s complete coverage of recent anti-gay developments in Uganda.
Uganda Activist Cites Disbarred "Therapist" As Authority on Homosexuality
Jim Burroway
March 31st, 2009
David Roberts at Ex-Gay Watch has posted another exclusive video of Ugandan pastor Stephen Langa, as he cites Richard Cohen's 2000 book, Coming Out Straight, as an authority on the homosexual agenda. The video was taken during a March 15th follow-up meeting to the three-day conference conducted by American anti-gay activists, which included Richard Cohen protegé Lee Caleb Brundidge.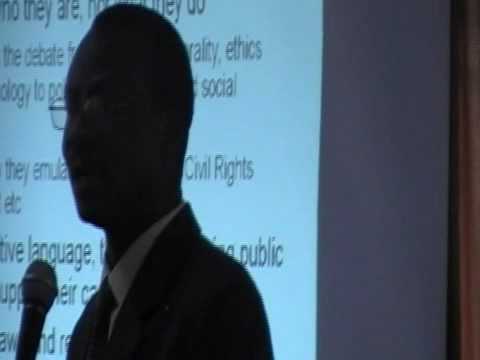 What are some of their strategies? One: redefine homosexuality as an inborn condition based on genetics and biology, so that it will be regarded as irreversible. There is no proof, there is no study that has found that homosexuality is genetic. None, none. In fact, this man has a whole chapter on it. Now this man is a former homosexual, he has a whole chapter on all the science, on all the studies that homosexuals claim […] the genetics of homosexuality, and all of them don't qualify. They are unrepeatable. You cannot politicize… […] an experiment cannot be done, it cannot happen. It doesn't work. It's not there. But we see they portray it as such. They portray it as such.

Second, focus on who they are and not what they do. It's a very critical tactic. A very critical tactic. What does that mean? This shifts the debate from the arena of morality, ethics and psychology to politics, human rights and social injustice. Here's how clever they are. This is a matter of morality. This is a matter ethics. This is a matter of psychology. But now they shift it to politics, human rights and social injustice. They play on your sense of justice. "Oh, but look at the injustice. See?" They're like the Blacks, and that is wrong. You see, and here it is. "In this way they emulate the pattern of the Civil Rights movement." In America, what was the civil rights movement? People are being discriminated against because they are Black.

Now the difference between that and a legitimate civil rights issue and an issue which is not a civil rights issue is this: If that thing is something you have no choice about and something inborn, then it is a civil rights issue. For example, your tribe, if somebody discriminates against your tribe, your color, you know? Those kinds of things. Those are things which are legitimate civil rights and human rights items. But issues of choice, if I choose to be a thief, if I choose to be a murderer, I cannot stand up and say, "Oh, you see, I was born this way." No.

But you see, these guys are clever. They want to equate legitimate issues that demand or that deserve human rights protection with things that don't. And that is how they were able to win in South Africa, because they say, "Well oh, Blacks were discriminated against, the Blacks in South Africa. So we are also like that." And so the South African government, as the other people passed, they also passed. And in America, this came up at the time when they see Black civil rights had just gained prominence and had just got their rights, and so they also smuggled themselves into the middle of it. And they came together with the Blacks. But that's the tactic. It's the tactic. It's the tactic.
There is so much in this short clip that is wrong that it's hard to know where to begin. But there is one thing that bears mentioning. Anti-gay activists who assert that there is no biological basis for homosexuality for anyone pretend that there were only three studies worth mentioning. Those studies include Simon LeVay's 1994 brain study, Bailey and Pillard's 1991 twins study, and Dean Hamer's 1993 X-chromosome study. As far as activists are concerned, these are the only studies that have ever been published, and none of them "proved" that homosexuality is biological or genetic.
The truth is however that there have literally been hundreds of studies published in peer-reviewed journals in the past twenty years or more, the preponderance of which suggest a biological basis for homosexuality in many people. Anti-gay activists refuse to acknowledge those studies. Instead, they only pick on the three weakest and easiest to disprove studies.
This is the sort of "science" one would expect from Richard Cohen. He has been banned for life from the American Counseling Association, and his controversial "holding" or "touch" therapy techniques — which are also clearly demonstrated in that same book Langa is so fond of — has made him the laughingstock of the ex-gay movement. Seeing it being used as fodder for Uganda's latest anti-gay campaign, while Exodus — America's largest and best known umbrella organization of ex-gay "experts" — remains silent is no laughing matter.
Click here to see BTB's complete coverage of recent anti-gay developments in Uganda.
Scott Lively: Following The Money
Jim Burroway
March 25th, 2009
How is a well-known Holocaust revisionist able to gain so much cooperation among other anti-gay groups? Let's follow the money.
Lively's Pro Family Charitable Trust is an arm of his Abiding Truth Ministries, which is one of only twelve anti-gay hate groups listed by the the SPLC. A quick look at the trust's contributions tell an interesting story:
NARTH received three grants totalling $2000.
The Jewish ex-gay group JONAH received a grant for $500.
Richard Cohen's International Healing Foundation received a grant for $500.
Peter LaBarbera received two grants totally $2000.
Watchmen On the Walls, a group that was co-founded by Lively, received a grant for $500. The Watchmen are also listed among the SPLC's twelve anti-gay hate groups.
Paul Cameron's Family Research Institute received a grant for $300. The FRI is another of the SPLC's anti-gay hate groups.
Exodus-Affiliated ministries receiving grants include Living Stones Ministry ($250), HIS Ministry ($500), and PFOX ($750).
Other notable recipients include San Diego ex-gay gadfly James Hartline ($500), Stephen Bennett ($500) and Linda Harvey's web site, Mission America ($400).
These must be considered minimum sums. The top grant is described as being the 31st grant on a page which only lists 28 grants, so this is clearly not a complete list.
It also appears not to be an up-to-date one either. Abiding Truth Ministry's 2007 IRS 990 form (PDF; registration required) from Guidestar.org lists:
an additional grant of $750 to Linda Harvey's Mission America,
an additional grant of $300 to James Hartline
a grant of $1750 to the Pro Family Law Center in Temecula, California, a project of Lively's Abiding Truth Ministries.
Some of these values may not look like much, but most of these groups operate on a shoestring budget. Some are little more than volunteer operations much like our own vast conspiracy here at BTB (which consists only of a web site and four volunteers). So to many of these outfits, these contributions can be significant. Maybe that's why Peter LaBarbera has been carrying Lively's water the past few weeks.
[Hat tip: Warren Throckmorton]
Richard Cohen Is Back In The PFOX and Exodus Orbit
Jim Burroway
February 26th, 2009
Richard Cohen is back and he's on tour, with the full blessing of Exodus International member organization PFOX.
Two years ago, the ex-gay movement was widely embarrassed by Richard Cohen when in July 2006 he revealed his "holding" or "touch" techniques before a nationwide audience. It's a controversial techniques that Cohen promotes through his International Healing Foundation. Cohen had also been president of the PFOX, but he was forced out after that CNN episode aired.
That embarrassment was compounded when in March 2007 he appeared on Comedy Central's The Daily Show. That prompted PFOX and NARTH to scrub their web sites of all mention of him, and Exodus International publicly distanced themselves from his techniques:
Exodus International does not endorse the work of Richard Cohen or the methods utilized in his practice. Some of the techniques Mr. Cohen employs could be detrimental to an individual's understanding of healthy relational boundaries and disruptive to the psychological and emotional development of men and women seeking clinical counsel and aid.
That was wise, if belated. Five years earlier, Cohen had already been expelled from the American Counseling Association (ACA) for multiple ethical violations.
Well, that exile didn't last long. Even though PFOX scrubbed their web site to pretend they had never heard of Cohen, we learned that just a few months later PFOX was referring "clients" to Richard Cohen's International Healing Foundation. Then last year came word of a possible rapprochement between Exodus and Cohen. That was quite a turnaround considering that Exodus International president Alan Chambers had resigned just a year ealier from PFOX's board of directors because they hadn't distanced themselves enough from Cohen
And now PFOX, which through all of this has remained a member in good standing in Exodus's referral network, is promoting Cohen's "National Tour!" — complete with exclamation marks. Actually, there are no tour dates set just yet. They're still begging for people to invite him. But the timing's no coincidence. Cohen will have a new book out, "Loving Gays the Right Way: The Other Side of Tolerance."
Let's see, what would the other side of tolerance be?
To remind you of Cohen's "healing" techniques, here's a clip of Cohen on CNN.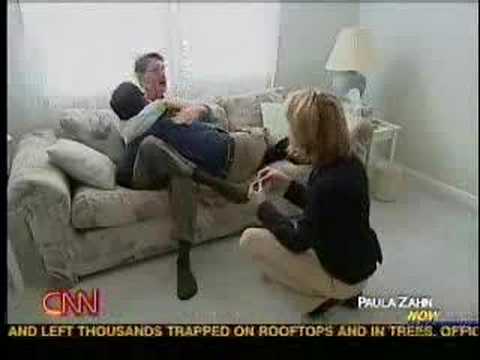 Exodus and Richard Cohen Make Peace?
Jim Burroway
July 2nd, 2008
It was only a year ago that Richard Cohen displayed his "holding techniques" for supposedly making gay men straight before a national audience, embarrassing everyone in the ex-gay movement. His stint on Comedy Central was the last straw for the few remaining holdouts. While NARTH and PFOX quietly scrubbed their web sites of all mention of him, Ex-Gay Watch reported that Exodus International President Alan Chambers resigned from PFOX's board after concluding that PFOX hadn't distanced themselves enough from Cohen. (Richard Cohen is a former PFOX's president, and PFOX was still privately referring clients to Cohen's practice.) Exodus also had posted a formal disclaimer on Cohen's techniques on their web site.
Now Ex-Gay Watch has noticed that the disclaimer is gone, as are other statements denouncing Cohen's cuddling techniques. David Roberts also noticed that several Exodus board members openly endorce Cohen's practice and other similar methods, which led him to asked directly: Does Exodus approve of Cohen or not?
While XGW is still waiting to hear from Exodus, Cohen's people have already provided an answer:
Richard explained more about his work and his position and methods to Exodus and they all made peace.
If  NARTH and PFOX have already forgiven and forgotten his lunacy — can Exodus be far behind? They've already gotten past their embarrassment over James Phelan's boorish behavior. If they can welcome Cohen back, then it will be loud-and-clear confirmation that Exodus is far more worried about public embarrassment than therapeutically appropriate behavior. And that should be cause for everyone to worry.
Richard Cohen Goes To The Movies
Jim Burroway
November 10th, 2007
As I was reading ex-gay gadfly Richard Cohen's book, Gay Children, Straight Parents, I kept encountering passages that I thought would make great material for future blog posts. By the time I reached the end of the book, I looked back at all the dogears and concluded that this book could give me material for weeks. But since I don't want to make this web site all-Cohen-all-the-time, I'll just offer you this nice excerpt. The following is from Step 4 ("Investigate the Causes of SSA"), from his 12-step plan for parents. Enjoy!
Movie Therapy

There is much to learn about the culture by observing art. Art imitates live, and today, because there are so many SSA men and women in the entertainment industry, life is imitating art. I have rented dozens of movies with homosexual themes written, directed or produced by SSA men and women. These films are the best testimonies about the unhappiness and misery of the SSAD condition. They teach us how lonely and unfulfilling a homosexual life actually is. Be forewarned: If you rent any of these movies, it may cause you or other family members emotional pain and unrest. Consider watching one or more of the following movies, but do so with a loved one (not your SSA child), and share about your thoughts and feelings afterward.

• The Deep End. The mother is overprotective, indulging her son while the father is away at sea, and the son hungers for his father's love. This is a typical triadic relationship: sensitive and artistic son, overattachment to mom, distant from dad.

• Breaking the Surface: The Greg Louganis Story. Again, the typical triadic family relationship is depicted. Olympic gold medal diver Greg Louganis is an adopted child with an abusive father and an overprotective mother. The sensitive son tries desperately to obtain his father's love through athletic achievement and finally in abusive relationships with other men.

• Latter Days. A disturbing commentary about religious rejection of those with SSA, this movie shows that great harm that comes from ignorance. This is the story of a Mormon missionary repressing his SSA and being seduced by a "gay" man. It shows his parents' reacting in all the wrong ways — with judgment and condemnation. They send him to a horrific program to "cure" him, but he ends up running back to his boyfriend.

• Angels in America. This 2003 Emmy-winning HBO drama by Pulitzer Prize-winning playwright Tony Kirshner is a truly tragic story of tormented SSA souls seeking solace and comfort from one another as they confront the onset of AIDS in the 1980s. There is no hope or redemption offered. The author has no understanding about the true nature of SSA and the potential for damage.

• Normal This 2003 HBO movie portrays a man who believes he was born in the wrong body and sets out to change his gender from male to female after twenty-five years of marriage. Again, it shows no understanding about gender identity disorder. There is a brief allusion to the relationship with his dad — shaming, name-calling, verbal abuse.
Let me break in here and point out something. After Cohen claims that the author of Angels in America "has no understanding of the true nature of SSA," Elsewhere in the book, Cohen refers to homosexuality as being fundamentally a gender identity disorder. Cohen here repeates his utter confusion over homosexuality and transgenderism. He's not alone. Ex-gay and anti-gay activists often are unable to see any difference between the two. The first refers to the gender of the object of one's attraction, the second refers to the gender one sees onself. The one often has little to do with the other, and for most people there is no overlap. With this passage, Cohen himself has demonstrated that he has no understanding of the nature of homosexuality or transgenderism.  Okay, back to the review…
• Brokeback Mountain. This Oscar-winning 2005 film depicts the unhappiness of two very confused cowboys. The movie sadly leaves out the unfulfilling life they would have had if they'd lived together. Both parties are wounded and looking for the same thing that neither one of them had experienced: healthy parental love.

• Queer as Folk and The L Word. These two Showtime series depict the ephemeral lifestyle of men and women engaged in homosexual activity. Watch these shows only when you feel strong. They will evoke emotions of disgust, shock and pain.
What important movies do you think he left out and why do you think they're important? You can leave your suggestions in the comments. And as Siskel and Ebert used to say, see you at the movies!
See also:
My review of Ricahrd Cohen's Gay Children, Straight Parents: From Buggery To Huggery: Richard Cohen Has A Plan For Your Family
Speaking of Fair Weather Friends…
Jim Burroway
November 9th, 2007
We already mentioned Joseph Nicolosi and Rigina Griggs, whose organizations once pretended they never heard of Richard Cohen last March when the world was laughing at his appearance on Comedy Central's The Daily Show. Now that it looks like the coast is clear, Nicolosi and Griggs back out of the closet and endorsing his latest book, Gay Children, Straight Parents.
More questions are arising as to whether Cohen himself may be a fair weather friend to Sun Myung Moon's Unification Church, known colloquially as the "Moonies." He had been a member of thee Unification Church for twenty years, and his marriage is an arranged marriage that he said was suggested by the Rev. Sun Myung Moon himself. Cohen says that he left the Unification Church in 1995 and now professes to be a Christian.
But more recently, Cohen's organization, the International Healing Foundation, was listed by the Freedom Of the Mind Center, a cult awareness web site, as a Moon Cultural and Social Front. Cohen denied the charge, calling it a "slander." But questions about his links continue to pile up. Warren Throckmorton has been compiling a rather exhaustive dossier on the question.
What do you think? Moonie, or just Loonie?
See also:
From Buggery To Huggery: Richard Cohen Has A Plan For Your Family
Richard Cohen's Back In The Saddle Again
Jim Burroway
November 9th, 2007
So here's the puzzling thing. It was just last March when Cohen's hilarious demonstration of his "holding" therapy on Jon Stewart's The Daily Show proved to be such an embarrassment that Exodus publicly disassociated themselves from Cohen, while NARTH (headed at the time by Joseph Nicolosi) and PFOX (headed by Regina Griggs) quietly scrubbed all references to him on their web sites.But now it looks like Nicolosi and Griggs are willing to let bygones be bygones. Look at these two endorsements printed on the back of Cohen's latest book, Gay Children, Straight Parents:
"Richard is movingly candid about the brokenness in his own family life, and he's not afraid to get down in the trenches and cry, mourn and laugh with everyone else who struggles. This book offers sound practical advice for healing family relationships."
— Joseph Nicolosi, author of Reparative Therapy of Male Homosexuality and Preventing Homosexuality: A Parent's Guide
We all want the best for our children. Please read this book and follow Richard's suggestions for building a healthy parent-child relationship, one based on unconditional love and mutual respect."
—Regina Griggs, national director, PFOX
Among the "sound practical advice" that Cohen offers in Gay Children, Straight Parents is the same therapy that he demonstrated on CCN, Jimmy Kimmel Live, and on Comedy Central. Cohen's "suggestions for building a healthy parent-child relationship" haven't changed one iota since they first appeared in his 2000 book, Coming Out Straight. So why are they now endorsing something that they found so terribly embarrassing then? Maybe Cohen's fair weather friends are ready to rejoin Cohen's huggery bandwagon after all.
You can read all about each of his twelve steps for parents in our latest report, From Buggery To Huggery: Richard Cohen Has A Plan For Your Family.
Richard Cohen's New Book From InterVarsity Press
Jim Burroway
November 8th, 2007
Richard Cohen, ex-gay gadfly and director of the International Healing Foundation and former president of PFOX, has a new book out from InterVarsity Press. Debuting this month, Gay Children, Straight Parents: A Plan for Family Healing offers advice for parents who have just learned that their son or daughter is gay.
And what sort of advice does he give? Well, in this latest offering he offers a twelve step program to help parents deal with their failures as parents. Well, not entirely; I'm obviously being a bit flippant. But if your operating theory on what causes homosexuality involves the failure to connect with your child during critical stages of childhood, what else is there?
It turns out there's actually plenty more. But his advice to parents often return to the need to mend their own ways and reach out to their child to rebuild that emotional bond. In our latest report, I review all twelve steps outlined in Gay Children, Straight Parents. For sheer entertainment value, my favorite step (and probably yours too) is Step 8. It's a step that Cohen is so enthusiastic about, he even performs it with his own adult son. It looks something like this:
Want to know more? Sure you do. You can continue to read all about each of his twelve steps in our latest report, From Buggery To Huggery: Richard Cohen Has A Plan For Your Family.
Insanely Inappropriate Children's Book
Timothy Kincaid
August 16th, 2007
I never really knew what was in Richard Cohen's children's book, Alfie's Home.
But DormItem has pictures. From the graphics and language, it's clearly aimed at small children – but the subject matter is not. It is totally cringe-worthy.
(hat tip to commenter Aaron at XGW)
PFOX and Richard Cohen: On the Downlow
Jim Burroway
July 20th, 2007
Richard Cohen had been president of PFOX, but was forced out a year ago after publicly embarrassing himself and PFOX on CNN. Last spring, he embarrassed himself again on Comedy Central's The Daily Show. That prompted PFOX and NARTH to scrub their web sites of all mention of him.
Wayne Besen, of Truth Wins Out, reports that PFOX hasn't exactly cut all their ties with Richard Cohen. They just took their relationship on the downlow:
To find out if there was a clandestine collaboration between PFOX and Cohen, Truth Wins Out conducted a simple experiment. The organization sent PFOX a request for an "ex-gay" speaker under the screen name FamilyManMd.

PFOX first offered an African American ex-lesbian. However, when "FamilyManMd" requested a Caucasian male speaker, the screen name received a rapid e-mail from Cohen offering his services. Cohen had previously been expelled from the American Counseling Association, which he failed to mention in his e-mail prompting his services.
Richard Cohen Shifts Gears
Jim Burroway
July 8th, 2007
Grove City College's Warren Throckmorton noticed that Richard Cohen, the self-proclaimed ex-gay "psychotherapist" who heads the International Healing Foundation, has quietly announced that he is no longer personally counseling clients who want to change their sexual orientation.
Cohen does however continue to offer personal consultations, treatment plans and referrals. He also sells a series of internet-based teleconferences and what he calls "healing seminars," and he is more than happy to "certify" other therapists in his unorthodox methods for $1,400 a pop. And it looks like some have taken him up on the offer.
And all of this, of course, follows his own line of books, audio CD's and DVDs. In case you were wondering, buying his products happens to be "step 1" of his "process of healing". He doesn't even want you to contact him until you've done that.
Which is probably for the best, because when you read his 2001 book Coming Out Straight — the one with Dr. Laura Schlessinger's endorsement on the front cover — you'll find out what his "process of healing" is all about.
But if you've read his book and you're still interested in getting in on his act, he has an entire line of products for each of the remaining four steps of healing. In fact, he has an entire ladder of healing; an ex-gay pyramid, if you will.
With so many products to sell and seminars to hold and teleconferences to sponsor, maybe one-on-one counseling has become a poor revenue stream from a return-on-investment standpoint.
It's amazing what one can get by with in a wide open field with no standards, no regulation, and no accountability. Caveat emptor.
See also:
Richard Cohen Shifts Gears
Richard Cohen Is "Disappeared"
Fallout From Richard Cohen's "The Daily Show" Appearance
Therapy In the Wild, Wild West
Do These Folks Agree With Cameron's "Solution"
Jim Burroway
May 14th, 2007
Dr. Warren Throckmorton has also posted about Paul Cameron's disturbing views expressed in Cameron's article, "Gays in Nazi Germany." Dr. Throckmorton concludes:
Suffice to say that Dr. Cameron is not simply ideologically opposed to homosexuality, he is fixated on "solutions" that I find abhorrent. I call on fellow social conservatives who still refer to the Camerons' work to take a hard look at these posts and reflect on whether someone with such extreme animosity could possibly approach social science data with sufficient objectivity to be trusted.
When Ex-Gay Watch pointed out that Exodus was using Cameron's research, Exodus finally responded by removing those web pages from their web site. On the other hand, NARTH has so far failed to act.
I wonder how many of these individuals, organizations and publishers agree with Paul Cameron's Solution for those who live "parasitic lives"?
E-mail me or leave a comment if you find someone who is using Cameron's "science" and I'll add them to the list.
Publications:
American Family Association:
Americans For Truth:
Courage:
Concerned Women For America:
Ears To Hear:
Evergreen International:
Family Research Council:
International Healing Foundation (Richard Cohen):
Lifesite News:
National Association for the Research and Therapy of Homosexuality (NARTH):
One News Now:
Renew America:
Virtue Online:
Let me know if you find any others.
Richard Cohen Is "Disappeared"
Jim Burroway
March 31st, 2007
Ex-gay impresario Richard Cohen's embarrassing performance on Comedy Central's The Daily Show continues to reverberate through the ex-gay movement. Ex-Gay Watch reports that PFOX and NARTH are quietly scrubbing their web sites of all mention of him. It's as if he never existed. Nope. Nothing to see here.
Richard Cohen had been president of PFOX, but was forced out after his previous embarrassment on CNN. Now PFOX and NARTH are pretending like they never heard of him. Which is odd really, considering that he never tried to hide his form of therapy from anyone. In 2000, he wrote a whole book about it — complete with photographs — with Dr. Laura Schlessinger's endorsement featured on the front cover. NARTH even sold it in their bookstore. How can anyone pretend this is new information?
See also:
Richard Cohen Shifts Gears
Richard Cohen Is "Disappeared"
Fallout From Richard Cohen's "The Daily Show" Appearance
Therapy In the Wild, Wild West
Fallout From Richard Cohen's "The Daily Show" Appearance
Jim Burroway
March 23rd, 2007
Since Wayne Besen and Richard Cohen appeared on the Comedy Central's "The Daily Show" last Monday, many in the ex-gay movement have been deeply embarrassed by Cohen's performance. And apparently, Cohen has been feeling the heat. Warren Throckmorton received an E-mail from Cohen that said, in part:
This week's interview on The Daily Show was difficult. It took place in my home and office, and was the most degrading experience I've had in the media. I unknowingly allowed myself to be manipulated and coerced by the producer and the host. I take full responsibility for this mistake. I have learned since my interview with The Daily Show that this program treats most of the experts they interview the same way they treated me: taking bits and pieces of the interview, re-edit it out of order, and make the interviewee appear foolish.

Happily, regular Daily Show viewers–which I am not–are in on the gag and know that this is the way the show generates laughs. I have learned well from this experience to better research future interview opportunities and to be more discerning about the offers that I accept, and what therapeutic approaches I demonstrate on the air. I sincerely apologize if my decision to be on this and other interview programs has caused you any hurt or harm. Please forgive me.
In other words, he's sorry he demonstrated on the Daily Show the same therapeutic approaches he showed on CNN. Which also happen to be the same techniques he demonstrated in his own book clear back in 2000. That book has been widely available for seven years It's not an obscure book, but the way. It features a foreword by Laura Schessinger.
I think it's important to notice that he's not apologizing for his inappropriate and bizarre techniques, he's only apologizing for demonstrating them before a national audience. But they say when life gives you lemon, make lemonade. Or make a fundraising appeal. Or something like that. Cohen's message continues:
I am not a public relations expert and very much need the help of one. I have had to handle the media on my own. I realize now that this needs to be changed.

If you can contribute financial resources toward funding public relations and media strategizing, so we can launch a positive campaign to promote the truth about SSA and the possibility of change, please contact me. I/we need and appreciate your help in this urgent matter.
The fallout from that appearance has continued. Ex-Gay Watch now reports that Exodus president Alan Chambers had joined the board of PFOX last year. Cohen had just been forced out of PFOX in the wake of previous embarrassing television appearances, and Alan joined to try to make a positive change on the condition that PFOX sever all ties with Cohen. Nevertheless, PFOX has remained wedded to Cohen's methods and theories, and Cohen himself claims to be an advisory board member for PFOX. For this and for other reasons, Alan Chambers has resigned from the PFOX board.
And that's not all. This brand new policy statement was added to Exodus' web site:
Exodus International does not endorse the work of Richard Cohen or the methods utilized in his practice. Some of the techniques Mr. Cohen employs could be detrimental to an individual's understanding of healthy relational boundaries and disruptive to the psychological and emotional development of men and women seeking clinical counsel and aid.
Alan Chambers has taken a very positive step. I congratulate him on his move.
Hat tips: Warren Throckmorton and Ex-Gay Watch.
See also:
Richard Cohen Shifts Gears
Richard Cohen Is "Disappeared"
Fallout From Richard Cohen's "The Daily Show" Appearance
Therapy In the Wild, Wild West