Scott Lively, Gays, and the Nazi Party
Jim Burroway
June 23rd, 2009
Anti-gay extremist and historical revisionist Scott Lively has been much in the news earlier this year when he participated in an anti-gay conference in Uganda alongside Exodus board president Don Schmierer. During his talk there, he quoted extensively from his book, The Pink Swastika, which posits that the Nazi movement was, at its core, a homosexual movement, and that the LGBT movement today is, in essence, a fascist movement. Despite the historical record to the contrary, Lively blames gays for the rise of Nazism and for the Holocaust itself, and claims that "the connection between homosexualism and fascism is not incidental."
This claim might come as a surprise to the many participants of Springfield, Missouri's recent PrideFest, which was targeted for protestby members of the neo-Nazi National Socialist Movement. That claim would also come as quite a surprise for Naples, Florida resident and PFLAG member Ruth Dorfman, who found swastikas painted on her garage door after an article she wrote appeared in the local paper about a PFLAG event.
Grove City College professor Warren Throckmorton has undertaken a remarkable series of posts which methodically dissects The Pink Swastikaand looks at the historical distortions behind it. Many LGBT people might find Throckmorton's work in this area a pleasant surprise. As a conservative Christian psychologist, Throckmorton has supported the right of counselors and ministries to offer ex-gay therapies. Earlier in the decade, Throckmorton worked with PFOX in their efforts to oppose sex education curriculum in a suburban Washington, D.C. which was friendly to gay students, and he produced the video I Do Exist which promoted ex-gay therapy.
In recent years, he has moved away from those activities without disavowing them explicitly, although he has since become a harsh critic of PFOX and its founder, Richard Cohen. He has also become a critic of anti-gay groups like the National Association for the Research and Therapy of Homosexuality (NARTH) when they distort the scientific record. And he criticized Exodus over their board member's participation in the Uganda anti-gay conference.
Throckmorton's series of posts examining The Pink Swastika, as I said, are quite remarkable and thorough. For two of those posts, he brought in Jon David Wyneken, Associate History Professor at Grove City College, who described several instances of blatant distortion of the source material Lively and his co-author, Kevin Abrams, used in their book. In his latest post, Throckmorton examine Lively and Abrams' linkage between Friedrich Nietzsche and Nazism and finds it lacking. He promises to offer a similar examination of other historical figures in future posts.
Throckmorton hasn't been content to publish this material on his web site and leave it there. He has also written articles on the subject for Opposing Views and the conservative Christian Post, bringing his important work before a wider audience. Scott Lively, whose Abiding Truth Ministries is on the Southern Poverty Law Center's list of anti-gay hate groups, was annoyed to discover one of those posts on one of his "favorite Christian websites" and decided it could only mean one thing: Throckmorton "has gone to the 'dark side'."
Here is Throckmorton's complete coverage of Lively's work so far:
May 28: Scott Lively Wants Off SPLC Hate Group List
May 31: Eliminating Homosexuality: Modern Uganda and Nazi Germany
June 3: Before The Pink Swastika
June 4: Kevin Abrams: The Other Side of The Pink Swastika
June 8: A Historian's Analysis of The Pink Swastika, Part 1
June 9: A Historian's Analysis of The Pink Swastika, Part 2
June 11: American Nazi Movement and Homosexuality: How Pink Is Their Swastika?
June 15: Nazi Movement Rallies Against Gays In Springfield, MO
June 17: Does Homosexuality Lead To Fascism?
June 23: The Pink Swastika and Friedrich Nietzsche
June 29: The Pink Swastika and The Hidden Holocaust?
July 6: The Pink Swastika and Hate 2 Hope
Warren Throckmorton Investigates Scott Lively's "Pink Swastika"
Jim Burroway
June 4th, 2009
Grove City College (PA) professor Warren Throckmorton has embarked on an ambitious and well-researched series of articles examining Scott Lively's anti-gay Holocaust revisionist theories. Lively's book, The Pink Swastika, puts forth the thesis that "the Nazi Party was entirely controlled by militaristic male homosexuals throughout its short history." According to Lively, it was gay people who brought World War II to Europe, built the gas chambers, and sent as many as twelve million people to their deaths.
Warren has posted three parts to his series so far in which he methodically lays out background which led Lively to formulate his thesis. Warren traces the roots of his thesis to the 1992 campaign in Oregon for Ballot Measure 9, a draconian proposal which would have compelled the state to actively promote anti-gay propaganda in the public schools while prohibiting LGBT people any recourse in the courts. Gay rights activists drew parallels to Measure 9 and Nazi laws against homosexuality. Lively and Pink Swastika co-author Kevin Abrams sought to thwart that development by turning the argument on its head, claiming that it was the gay rights movement itself which had its origins in the Nazi party. Warren investigates some of Abrams' many distortions of historical texts to arrive at their contention.
All three parts in the series provide an essential view of the origins of the Pink Swastika meme, and I look forward to further installments in the series.
May 31: Eliminating Homosexuality: Modern Uganda and Nazi Germany.
June 3: Before the Pink Swastika.
June 4: Kevin Abrams: The Other Side of the Pink Swastika
Nazi Comparisons
Timothy Kincaid
June 1st, 2009
Scott Lively has earned his organization Abiding Truth Ministries an official SPLC Hate Group designation by making extreme (and bizarre) claims about gay people. Perhaps his best known is accusation that gay men were responsible for the atrocities of Hitler\'s Nazi regime. It is the subject of his book, The Pink Swastika.
Not finding fertile ground for extremist claims in the United States (and because there are too many Holocaust organizations that refute his smears), Lively finds a more favorable audience overseas. He exports his anti-gay fervor to places where political and religious establishments are welcoming of radical calls for oppression and persecution of gay people.
His latest efforts were in Uganda where, in a conference with Exodus Board Member Don Schmierer and ex-gay Caleb Brundidge, he called for harsher civil punishment of homosexuality and forced reorientation therapy. But his actions in Uganda open him up to ironic observations about who more closely compares to Nazi Germany.
Dr. Warren Throckmorton has noted some such comparisons
Scott Lively encouraged the Uganda church leaders to view the tiny gay movement in Uganda as related in some way to the same movement that propelled the Nazis to power in Germany. However, if one looks for similarities in rhetoric and policy positions, one can more readily find them by noting how the the goverment in power then in Germany and now in Uganda regarded homosexuality. InThe Pink Swastika, Lively discounts the Nazis\' public rhetoric and policies as a means of distracting attention to the homosexuality in the ranks of Nazi leaders. What could the same rhetoric and public policy objectives mean in Uganda?
Dr. Throckmorton is not really trying to suggest that Uganda\'s actions are Nazi-like. Rather, he\'s pointing out that "those who want to make sinister linkages between Nazi Germany and gay people must be prepared to explain why more obvious similarities, such as noted here, are not indicative of equally nefarious intents."
I suspect this logic will be lost on Lively.
Click here to see BTB\'s complete coverage of recent anti-gay developments in Uganda.
Uganda Gays Arrested, Blackmail Attempts Reported
Jim Burroway
May 4th, 2009
The situation in Uganda shows no sign of slowing down anytime soon. The Uganda press continues to play up the time-honored gays-as-child-predators slander, with the claim that the only reason for repeated generations of gay people is that they must "recruit" the next generation.
While that's going on, Uganda's Parliament appears poised to consider strengthening its already draconian law against homosexual acts. That action has the backing of Uganda's President, Yoweri Museveni. Current law already provides a maximum lifetime sentence for conviction of participating in same-sex relations. This latest efforts appear aimed at making the condition of homosexuality itself illegal.
We now have media reports of one gay couple arrested in Mbale. It is believed others have been arrested and sentenced as well. We also have reported blackmail attempts, in which anti-gay activists demand money in exchange for not publicly denouncing the individual as gay.
One person at the center of the blackmail allegations is  Uganda's "ex-gay" star, George Oundo, who continues to play a prominent role in the national outing campaign of private citizens. He has also made some very splashy allegations against well-known public figures as well. Those allegations have appeared in print, and on radio and television.
One such appearance was on Uganda's NTV television on March 29. The International Gay and Lesbian Human Rights Commission (IGLHRC) has obtained video of that broadcast: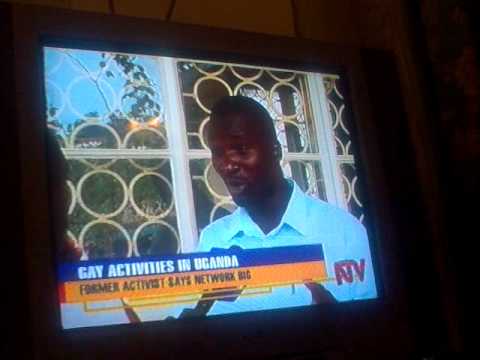 The video features Oundo describing his "recruiting" efforts in Uganda's schools. Strangely, his open admission of engaging in sexual acts with underage children has not led to calls for his arrest.
The television report intersperses brief shots of a pro-gay press conference held on August 16, 2007, which called on the Uganda government to allow LGBT people to live in peace. Many LGBT people attending that conference wore masks to shied their identity. That "Live In Peace" meeting led to that year's public anti-gay vigilante campaign, with the tabloid Red Pepper playing a major role in that year's campaigns.
As we reported earlier, Oundo got his first taste of public notoriety last September when he appeared on the pages of the hated Red Pepper seeking to embarrass the Ugandan LGBT community in a blatant bid for money. With that effort having come up dry, he appears now to be casting his lot with Stephen Langa's Family Life Network
Langa's Family Live Network began this latest round of anti-gay vigilantism with an anti-gay conference Kampala on March 3-5. That conference featured Exodus board president Don Schmierer, Holocaust revisionist Scott Lively, and purported raiser-of-the-dead and Richard Cohen protegé Caleb Lee Brundidge. Exodus International "applauded" Schmierer's role at the conference, while Exodus President Alan Chambers tried to wash his hands of responsibility for the aftermath of Schmierer's actions.
Click here to see BTB\'s complete coverage of recent anti-gay developments in Uganda.
Uganda Anti-Gay Activists March, "Storm Parliament"
Jim Burroway
April 24th, 2009
The Daily Monitor of Uganda has this report on a march by local anti-gay activists held on Tuesday:
Activists against homosexuality in Uganda stormed parliament on Tuesday protesting against the practice and demanded a probe into the practice in the country.

The activists who were holding banners denouncing the activity were led by the Family Life Network in conjunction with religious leaders.

The groups led by the Executive Director of Family Life Network, Mr Stephen Langa while handing over their petition to the Deputy Speaker, Ms Rebecca Kadaga said the Parliamentary select committee should also assess the extent of the damage homosexuality has caused to children and Ugandans.

…Mr Langa said the homosexuals under the group Sexual Minorities Uganda spend huge sums of money to recruit University students and those in secondary schools into homosexuality. They did not give details.
Another Uganda news outlet, UGPulse, reported that Deputy Speaker Kadaga "promised to push for the amendment of Article 31 of the Constitution which prohibits homosexual marriages. Langa had earlier noted that the article prohibits gay marriages but not the actions."The Daily Monitor's article indicates that the group explained that they wanted the proposed amendment to be broadened to "openly prohibit homosexuality, bisexuality, transsexuality and other related practices." According to some reports, there are moves afoot to make merely being gay a crime.
The anonymous blogger GayUganda reports that the demonstration began at Makerere University, the principle university in Kampala. Makerere University serves as host to pastor Martin Ssempa's weekly anti-gay talks known as "Prime Time." From Makerere University, the march worked its way through Kampala to the Parliament building. Portions of the march were carried on local Ugandan television.
This march follows Sunday's full-page article in the gossip tabloid The Red Pepper, which provided first names and other identifying features of more than fifty gays and lesbians in Uganda. Identifying features included places of residences, employers, partners' names, and types of cars driven. The article does not appear on The Red Pepper's web site. The Red Pepper promises another round of public outings next Sunday.
The same tabloid gained notoriety for conducting a similar public outing campaign in 2007. That campaign led to mob assaults, arrests, extra-judicial punishment, and drove some LGBT Ugandans into hiding or exile.
This year's anti-gay campaign traces its origins to a March 3-5 conference held in Kampala featuring three American anti-gay activists. Conference speakers included Exodus board president Don Schmierer, Holocaust revisionist Scott Lively, and purported raiser-of-the-dead and Richard Cohen protegé Caleb Lee Brundidge.
Click here to see BTB\'s complete coverage of recent anti-gay developments in Uganda.
Uganda's Anti-Gay Vigilante Campaign Is Now In Full Swing
Jim Burroway
April 19th, 2009
This is what Exodus International helped spark. It is today's issue of the Ugandan tabloid, The Red Pepper, which featured this "killer dossier." Yes, those are the Red Pepper's own words:
This is a killer dossier, a heat-pounding and sensational masterpiece that largely exposes Uganda's shameless men and unabashed women that have deliberately exported the western evils to our dear and sacred society. …
This is what we have long feared: names, identifying features, places of employment, residences, boyfriends and girlfriends, and other unfounded charges and illicit gossip intended to destroy their reputations and worse. It is a repeat of the 2007 vigilante campaign which was also trumpeted by — you guessed it — the Red Pepper.
In fact, this latest article is a retread of the Red Pepper's infamous 2007 "Homo Terror" article, which was a centerpiece of that year's campaign. And like before, the Red Pepper doesn't intend to stop with just this article. Today's Red Pepper promises to publish "more shocking things you don't know about Homos" in next Sunday's edition. Interestingly, this "killer dossier" does not appear in the Red Pepper's website.
For the latest round, LGBT Ugandans are bracing for the worst while drawing strength from one another:
It is Saturday evening. I debated whether or not to show my face in public. My lover convinced me it was no big deal. Just go, and show my mug. And anyone have a problem, well, to hell with them.

So, I went to my favourite pub. And, found that most other kuchus [gays] had also gravitated there. Showing there [sic] faces.

…But nothing could hide the anger, and the sense of community. We were together to take strength from one another. We have been exposed to the merciless gaze of hate of a homophobic society. We were, and are, hurting. There is little that we can do, but we can brave it out, and give strength to one another. We don\'t know what the actual fall out will be, individually, on a person to person basis. Or, to the community. There were some photos, this time, too. As if the need was that it was necessary to sheer up the believability of the red rug. Just a few photos. But enough.
This is the fruit of Exodus International board member Don Schmierer's participation alongside Holocaust revisionist Scott Lively in an anti-gay conference in Kampala, Uganda during the first weekend of March. The conference, in which Schmierer was intended to serve as the "ex-gay expert," announced a policy proposal to change Uganda's draconian laws against homosexuality to force those convicted into unproven and unregulated "therapies."
Because Schmierer and Exodus have decided to remain silent about their roles in this fiasco, Ugandan anti-gay organizer Stephen Langa has used Schmierer's and Lively's talks to lend legitimacy to a series of meetings which followed the original conference. Those meetings then culminated in a press conference carried live on national television featuring George Oundo, who claimed to be "ex-gay." Oundo has since been fueling a public outing campaign on radio and in the newspapers, culminating in this long-feared feature in the Red Pepper.
This latest development is very worrisome because the Red Pepper was the major cheerleader in past public anti-gay vigilante campaigns. Those campaigns resulted in innocent people being arrested, tortured, fired, and driven into hiding and exile.
Exodus President Alan Chambers' only response to Schmierer's associations is to "applaud" Schmierer's role. Neither he nor Schmierer have spoken out in any meaningful way, either to forcefully condemn the aftermath of that conference, or to own up in Exodus' role in facilitating the actions stemming from it. For some inexplicable reason, Exodus remains silent as their handiwork in Uganda continues to exact harsh consequences to innocent people.
For the love of all that is decent and holy, when will Chambers do the right thing? What is he waiting for? What will it take for him to finally man-up and do the right thing? Is he really waiting for bloodshed, as it seems right now? Is that what it will take?
Click here to see BTB\'s complete coverage of recent anti-gay developments in Uganda.
Uganda Press Crank Up "Predator" Rhetoric
Jim Burroway
April 6th, 2009
The recent flare-up of anti-gay activity in Uganda has taken on a very dangerous turn lately, with two tabloids providing "tips" on how to spot gays and lesbians. These "tips" are based on common misinformed stereotypes, some of which were promulgated from the recent series of anti-gay gatherings taking place in the aftermath of a conference earlier this month featuring three American anti-gay activists.
Uganda's Weekly Observer's "tips" is in the form of person-on-the-street interviews, in which random Ugandans offer their suggestions on how to spot gays and lesbians, like this one:
Sarah Nakiwolo, 22, Student
What I know is that men who are gay tend to like all the fancy things that are normally appreciated by women. For example they will want to always treat their hair, apply make-up and act like women by pulling at their blouses (shirts) and jeans, which are normally tight. They also tend to gesture around like women by folding their hands, you know. Then for women, they will behave like men. They wear men's clothes a lot and would rather cut their hair to appear like men and do not fuss about make up. God made sex for man and woman, period. It will be hard to stop gay acts unless government comes out with a strict law.
Of the nine interviews, only one cautioned that "it would not be wise to stereotype." There were no counterbalancing interviews of gay people or experts, legitimate or otherwise.
The second, more disturbing element is that the Red Pepper is beginning to get involved. The latest issue featured this story:
Researchers told us last night that over three million Ugandans have engaged in homosexual activities knowingly or unknowingly…. Last week Sunday Pepper talked in confidence to some people who had ever been cornered into homosexual acts and below we give you their chilling confessions.
Those researchers are unnamed. What follows is two "confessions." One was subtitled, "I survived being bum-drilled by a senior journalist," and the other, "I became a lesbo unknowingly."
The Red Pepper's entry into the latest round of anti-gay grandstanding was expected, but it's disturbing nonetheless. In previous anti-gay campaigns, the Red Pepper became notorious for printing first names and identifying details of those it alleged were gay.
The Red Pepper's "confessions" article isn't the only recent story the tabloid has run recently. The Red Pepper also ran this story, which carried lurid allegations against named individuals who are members of an opposition political party. Stories like these are common means of discrediting legitimate opposition in Uganda, and the Red Pepper's accounts are typically the most intentionally outrageous:
Monster whopper wielding homosexual activists last year reportedly grabbed and attempted to drill the tiny bums of Uganda Young Democrats (UYD) members, Red Pepper exclusively reveals.  UYD is a vibrant youth wing of the opposition Democratic Party.

The chilling story is that late last year, UYD boss, Fred Mukasa Mbidde ferried 40 UYD members by bus to attend a conference on African Democracy at Victoria Hotel, Nakuru in Kenya. Sources that attended the workshop say it was organized and financed by AUF, a Norwegian based political party well known for bankrolling bum shafting and gay activities worldwide.

The organization which was represented by a bummy lady identified as Anja Riiser, has been secretly securing visas for bum-bonking experts and gay stars to countries like Spain, Norway, Italy and Canada.
The article goes on to names of several "UYD boys whose bums survived being cracked by bazungu's [sic] monster whoppers."
The recent anti-gay conferences led by Stephen Langa featuring Exodus board member Don Schmierer, Holocaust revisionist Scott Lively, and Richard Cohen Protegé Caleb Lee Brundidge gave a legitimizing gloss on the image of "predatory homosexuals," an image which has been the main component of past anti-gay vigilante and extrajudicial campaigns. Both Schmierer and Lively, cited as American "experts" on homosexuality, pointed to child sexual abuse as a means for "recruiting" youth into homosexuality.
Schmierer, in particular, used his credentials as an ex-gay "expert" to push the "molestation" theme as a pathway to homosexuality.  In his book, An Ounce of Prevention: Preventing the Homosexual Condition in Today's Youth, Schmierer writes, "Sexual abuse, including molestation and/or rape is a key factor in homosexuality. We will return to this repeatedly because it is so significant." And indeed he does, repeatedly. As do the extremists who are whipping up dangerous levels of vitriol in Ugandan newspapers, radio and television — backed by the "expertise" of Exodus and Lively.
Click here to see BTB's complete coverage of recent anti-gay developments in Uganda.
Exodus Maintains Month-Long Silence Amid Ugandan Gov't Calls For LGBT Arrests
Jim Burroway
April 2nd, 2009
Update: Calls for mass arrests on radio continue. For more information, see the end of this post for the latest update.
The situation in Uganda continues to escalate. Late yesterday, Uganda's New Vision followed up on Stephen Langa's launch of a public forced "outing" drive against Ugandan LGBT individuals and against rivals who are alleged to be gay. On Monday, Langa sponsored a press conference in which another allegedly "former gay activist" Paul Kagaba accused a very popular Catholic priest and gospel singer, Fr. Anthony Musaala, of being gay.
Musaala is a well-known figure, and the Catholic church is seen as a rival to Stephen Langa's evangelical organization. New Vision followed up with a statement from Fr. Musaala's colleagues and from Musalla himself:
Father Francis Ssemuddu, the head of St. Matia Mulumba parish in Old Kampala, said the accusations "were untrue". Ssemuddu said the church was clear about aberrant sexual practices and how to guide offenders get out of "the abnormal behaviour".

Musaala, the charismatic preacher and gospel music award winner, was on Tuesday accused by a self-confessed former homosexual of eight years of promoting the illegal practice. Paul Kagaba said the priest had often held parties for the gays at his residence in Gayaza near Kampala.

…Musaala argued that as a church minister, he had given spiritual guidance to homosexuals, lesbians and prostitutes since 1999, but he was not gay himself. "But ethically, I cannot name them," he said.

Explaining why people take to homosexuality, the dancing priest, as he is sometimes called, blamed the desire for money and "inherent feelings that drive them". His involvement, he said, was limited to helping the gay abandon the practice some of whom "want to commit suicide". "I want to show them the true path to salvation," he said. "This is a journey that requires someone to walk with as a guide."

"These people are stigmatised and I am totally against this because they need our help," said Musaala.
Meanwhile, parliament members are outraged that Ugandan authorities permitted Sexual Minorities Uganda (SMUG) to hold a public news conference. In an indication of the risks that are taken whenever anyone identifies themselves as being gay, members of parliament are demanding that those identified at the news conferences be arrested:
Latif Sebaggala (DP) said the Government was tolerant because donors had threatened to cut funding if homosexuals were stopped. "We are worried about our children. If the Government is silent, it means it is silent approval," he said.

Henry Banyenzaki (NRM) blamed poor enforcement of laws which he said had escalated homosexuality, rape, defilement and child sacrifice. In reply, Daudi Migereko, the Government chief whip, argued that anybody was free to hold a press conference without permission from the Government.

However, he said, by doing so, the gays had exposed themselves and the Government would go after them."Homosexuality is illegal. The Minister of Ethics, Dr. Nsaba Buturo, has been clear on the matter. Those involved will face the long arm of the law," he said.

Henry Kajura, the second deputy Prime Minister, said the Government would not compromise on moral and cultural values because of donor pressure.

"The Government will soon show its teeth," he warned. "Our society abhors homosexuality."
Uganda's latest spasm of anti-gay actions is a direct outcome of a three-day conference organized by Family Life Network's Stephen Langa, featuring three American anti-gay activists, including Holocaust revisionist Scott Lively and Exodus board member Don Schmierer. Leaders of that conference applauded Uganda's draconian anti-homosexuality laws, which provide a life sentence for those convicted. Conference leaders called for strengthening the law to proved for forcing gays and lesbians into conversion therapy. Schmierer, the supposed "expert" on ex-gay therapies and policies at the conference, remained silent on policy questions, and instead pointedly referred those questions to other speakers at the conference, including Lively.
Exodus released a very tiny three-sentence statement claiming to be against the policy proposals coming out of Uganda, while simultaneously "applauding" Schmierer's participation in the conference which promulgated those proposals. That statement has not been released publicly, and it does not appear anywhere on Exodus' web site. There is also no evidence that Exodus is making any attempt to convey any statements to Uganda media.
Grove City college professor Dr. Warren Throckmorton, meanwhile, was able to get an interview into the news outlet Uganda Pulse condemning the conference. This indicates strongly that if Exodus wanted to make a statement to the Ugandan people, there are means with which they could do it. Instead, Exodus continues to do nothing.
Update: The public calls for mass arrests continue in the media:
At 6 p.m., popular radio station KFM played clips from interviews with Dr. James Nsaba Buturo and Member of Parliament, Latif Sabagala. Sabagala said that homosexuality is unacceptable because it interferes with the moral values of Ugandans. He sent out a message to government agencies telling them to hunt down homosexuals and arrest them since they have exposed themselves. Dr. James Nsaba Butuaro said that they would discuss the issue in Parliament and get some action. The 9 o'clock news played another clip of Sabagala, saying that there are no laws protecting gays in Uganda.

…I spoke to Frank Mugisha, the chairperson of Sexual Minorities Uganda (SMUG). "The LGBTI-community is still scared," he said. "After our press release yesterday, the public is confused. They do not know what to believe. Those who are thinking through everything they have heard from the ex-gay activists have begun to realize that this is just an agenda to crush the gay rights movement, and it is full of lies."
Click here to see BTB's complete coverage of recent anti-gay developments in Uganda.
Videos Surface of Ugandan Activists Stirring Anti-Gay Fervor; Fears of Violence Grow
Jim Burroway
March 28th, 2009
We've gotten word from three separate Ugandan sources that local gays and lesbians in Uganda are worried about imminent violence, with many making plans to go into hiding or leave the country. The word on the street is that police detentions are pending (which one government minister has already promised) and that Stephen Langa's Family Life Network is preparing another round of public vigilantism. LGBT citizens believe that Wednesday's press conference, carried live by three television channels, was just the opening salvo. This press conference follows well-recognized patterns from previous anti-gay campaigns, which were cheered on by the media. Gay sources in Uganda report being terrified, with few daring to venture out of their homes.
David Roberts at Ex-Gay Watch has obtained exclusive video of the March 15th meeting conducted by Stephen Langa. That meeting was a follow-up to a March 5-8 conference at Uganda's posh Triangle Hotel featuring three American anti-gay activists: Exodus Board member Don Schmierer, Holocaust revisionist Scott Lively, and Richard Cohen protegé Caleb Lee Brundidge. That conference applauded Uganda's draconian law which calls for life imprisonment for those convicted of homosexual acts, and called further for those convicted be subject to forced ex-gay therapy. Schmierer's continuing silence on those proposals have been taken by Ugandan activists as an endorsement of those policies by American ex-gay experts.
In the first of the two videos posted at Ex-Gay Watch, we see Stephen Langa quoting material from Scott Lively's The Pink Swastika in this perverse version of the history of the gay movement: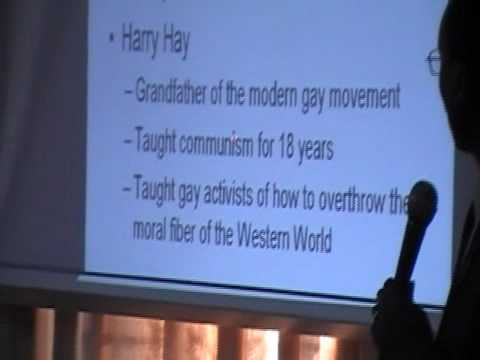 "Alright. The history of the modern gay movement. This is from Mr. Lively, he was here last week, and he was one of the people who was having a lot of research on homosexuals. He wrote this book you can see, The Pink Swastika: Homosexuality and the Nazi Party. He has a lot of data, lot of data, lot of data on homosexuality and on the homosexual movement.

"Now, in America this gentleman, Henry Garber [sic], was a German-American soldier who served in Germany after the First World War. He was among the occupational forces that was in Germany during and after the First World War. And then he went back to America and began activism, but in a very small way, a very small way. And Henry Garber [sic] molested a boy by the name Champ Simmons. When Champ Simmons grew up, he also molested a boy known as Harry Hay. This Harry Hay is the grandfather of the modern gay movement.

"This man here in the '40s, they guy who really began what is now today the gay movement that has taken over the whole world. He taught communism for eighteen years, and during that time he learned how society can be taken over. Because communists taught how society can be taken over using economic means. But he understood those tactics and taught the gay activists on how to overthrow the moral fiber of the Western World, which was based on marriage and the family. So he took these guys' tactics and strategies on how to overthrow a society. And so they began to do their work, they began to do their work. And the gay movement you see today and all these things you see around the world are as a result of what this guy taught these people, and his disciples are now busy and enforces what he has said, including those who are in this country. They all came out of this guy's movement."
As we've reported throughout this series, these activists have exhibited a particular obsession with the idea that homosexuality can be transmitted like a virus through child molestation. Notice Langa's macabre assertion that homosexuality passed via molestation from Garber to Simmons to Hays, as though it were a simple yet genealogical line. This idea that was reinforced by Exodus board member Don Schmierer, who provided the germ of that scientifically untenable theory in his talk at the March 5-8 conference in Kampala.
(This "genealogy" is a very good example of the many distortions which thoroughly permeate The Pink Swastika. Jonathan Katz, whose 1976 book Gay American History is purportedly the "source" of Lively's genealogy, reports Hays' "recruitment" very differently. Quoting Hays: "I enticed an 'older' gentleman (he must have been at least 33) to 'bring me out' by finagling his picking me up in Los Angeles's notorious Pershing Square. Poor guy — he was appalled to discover, subsequently, that I was both a virgin and jailbait!" Hays was seventeen at the time. So much for his innocent "molestation.")
In the second video, Langa remains focused on the gays-as-predators theme, citing Michael Swift's satire, "A Gay Revolutionary," as though it were a factual manifesto. As he dramatically reads aloud portions of that now-famous satire, notice the camera panning across the room to the shocked audience which is taking it all in: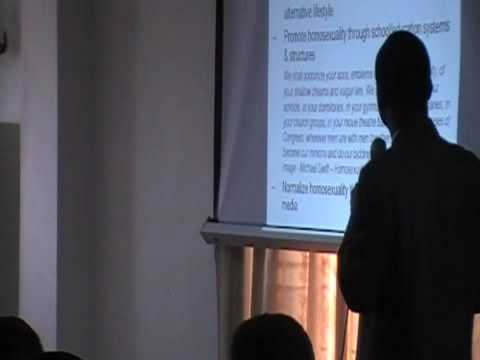 "…as we see here. This is not a joke, what we're dealing with here is not a joke. And of course, their cause — they don't care about you. They want your children! Look at what this homosexual activist said:

"We shall sodomize your sons, emblems of your feeble masculinity, of your shallow dreams and vulgar lies. We shall seduce them in your schools, in your dormitories, in your gymnasiums in your seminaries, in your church groups, in your movie theater bathrooms, in your houses of Congress, wherever men meet with men. Your sons shall become our minions and do our bidding. They shall be recast in our image."

"Criminals! That's what the gays want to do, that's what the gays want to do. They are after your children."
"It's not a joke"?
As a matter of fact, this passage is a joke. It's an intentional, outrageous joke on the part of the writer, and that fact is part of the public record. While anti-gay extremists love reading this aloud to incite hatred towards gays and lesbians — and Langa's dramatic recitation is par for the course — they invariably omit the preface, which sets the context for the entire piece:
This essay is an outré, madness, a tragic, cruel fantasy, an eruption of inner rage, on how the oppressed desperately dream of being the oppressor.
That's right. It's a work of fiction, a satire — and the author said so when it originally appeared in the Gay Community News way back in 1987. In fact, the anonymous writer used the pseudonym "Michael Swift," which is an obvious homage to the English language's most famous satirist, Jonathan Swift.
It's hard to improve on David Robert's observation:
Depicting this work of satire written in the heat of the AIDS crisis as having serious intent is nothing less than an incitement to violence. Combined with the prestige provided by supposed American "authorities" on homosexuality in the meetings of March 5-8, Langa here brings to the surface the greatest fear, and one that has been used by so many campaigns against marginalized groups throughout history — they are a danger to your children. A lie served up by a "man of God," backed by "experts" from the West and representatives of their own government. This is all a dangerous recipe for violence against anyone who is, or is perceived to be, gay in Uganda.
Click here to see BTB's complete coverage of recent anti-gay developments in Uganda.
More on Uganda Anti-Gay Vigilante Incitement
Timothy Kincaid
March 25th, 2009
This news report came out two days ago – prior to the one we reported today. In it, newly ex-gay George Oundo presented some rather strong claims in Uganda:
A man shocked parents on Sunday when he confessed to recruiting school children into homosexuality as part of a programme to promote the practice in Ugandan schools.

George Oundo said funders gave them "much money" and training abroad and that he would target mostly the needy children who had problems of tuition and pocket money and "others who like outings."
Oundo describes a rather structured effort
Oundo said he got seriously involved in promoting homosexuality in 2003. "I was taken to Nairobi for training," he said. "I used to supply pornographic materials in form of books and compact discs showing homosexuality to young boys in many schools," he explained.
And Oundo identifies the culprits
The training, he said, was facilitated by Gay and Lesbian Coalition. "I also got the pupils' telephone contacts. We used to meet with both girls and boys in schools during ceremonial parties," he asserted.

Oundo said homosexuality was spread by international human rights organisations.
In the West most readers would recognize this as rather outlandish and not be quick to believe Oundo's statements. Uganda, however, is fertile ground for these statements and it is almost certain that this seed will grow vines.
It is difficult to know the motivation for Oundo's actions and statements. But perhaps it helps to know that Oundo was a gay activist who in September was arrested for "recruiting homosexuals", beaten, denied food and medication, and held for several days until international pressure from human rights organization led to their release. I think that it is likely not coincidental that Oundo's statements now vindicate the police claim and vilify the human rights groups.
The Christian community in Uganda has now declared war on the lives of gay men and women in that county. And they have been abetted by American leaders in the anti-gay and ex-gay ministries.
Sadly, these Americans wish to pretend that their actions have no consequences, that they were just presenting "a compassionate, biblical view of homosexuality" to the world and that they bear no responsibility for any blood shed as a direct result of their anti-gay missionary efforts.
And make no mistake, there will be blood shed.
Other pastors yesterday told journalists in Kampala the war against sodomy would be long and challenging but must be fought.
In Uganda, "war" is not engaged by polite discourse and ballot box propositions.
It is not often in life that we experience real evil. But I do not hesitate to state that the participation of Exodus International in this conference and the justification of this anti-gay incitement by its president, Alan Chambers, is truly evil.
Click here to see BTB's complete coverage of recent anti-gay developments in Uganda.
From Kampala to Temecula: Scott Lively To Speak At California Republican Club
Jim Burroway
March 25th, 2009
Casey Sanchez reports that Holocaust revisionist Scott Lively will speak at the The Murrieta-Temecula Republican Assembly on April 3. The group is a local chapter of the conservative GOP activist group California Republican Assembly. They're pretty proud of their guest speaker, who they describe as "The Pastor Vilified by the Newspapers as a Hater Because of his stand Against the Promotion of Homosexuality in our Culture".
Lively called Temecula home for many years before relocating himself and his Abiding Truth Ministries to Springfield, Massachusetts last year.
Update: The golf clubhouse where the Murrieta-Temecula Republican Assembly was to hold its meeting has cancelled the group's reservation. The group will now probably meet in a private home.
Another Anti-Gay Vigilante Campaign May Have Begun In Uganda
Three television stations, two newspapers reporting senstional allegations.
Jim Burroway
March 25th, 2009
Two newspaper (so far) and three television stations in Uganda have reported on a sensationalistic press conference organized by Stephen Langa, director of Kampala-based Family Life Networks, which appears to be the start of a fresh public anti-gay vigilante campaign.
The Ugandan media is continuing to take notice of the recent anti-gay conferences and meetings which have been taking place in Kampala the past few weeks. The most recent meeting was held on March 22. These series of meetings were instigated by a three-day conference organized by Langa and featured talks by three American anti-gay activists, including Exodus board member Don Schmierer, Holocaust revisionist Scott Lively, and Richard Cohen protegé Caleb Lee Brundidge.
Ugandan news media have been issuing regular reports of that conference and two follow-up meetings which have been held on successive Sundays since then. The latest one from Uganda Pulse reported on a press conference held today:
Parents in Uganda have expressed concern over the increasing levels of homosexuality, defilement and sexual harassments of children. The parents under the Family Life Network (FLN) says that information revealed from several reliable sources indicates that many children in schools are facing horror, frustration, mental and psychological torture for being cajoled into homosexuality.

FLN's Executive Director, Langa Steven say [sic] that there are agents involved in recruiting children into homosexuality and lesbianism. Langa says that these suspected groups take advantages children by using deception, manipulation and coercion.

Pastor Joseph Male who addressed a press conference in Kampala with Langa also says that findings show that immorality groups are recruiting children into homosexuality. He says these homosexual promoters hide behind human rights organization and claim to be protecting sex minorities Uganda.

Pastor Male claims that these groups spend about 2,000,000 per week to recruit university students into homosexuality and lesbianism.
Another news outlet, New Vision, reported:
EIGHT more men yesterday confessed involvement in homosexuality and gay activities, which they said they had abandoned. Speaking to journalists at the Grand Imperial Hotel in Kampala, the youthful men described homosexuality as abnormal and anti-Christian, and declared war against it.

The tough-talking men were accompanied by George Oundo, who earlier in the week denounced homosexuality and confessed recruiting school children into the practice.

"We have been involved in recruiting homosexuals, spreading the gospel of homosexuality, and we know the operations of homosexuals," said 27-year-old Emma Matovu, who took to homosexuality 13 years ago. "We shall do all it takes to eliminate the practice in Uganda."

Matovu, who said he abandoned the practice two weeks ago, asserted: "Homosexuality is dangerous and dehumanising but is growing fast in Uganda."
According to the New Vision article, the press conference was organized by — you guessed it — Stephen Langa, the same pastor who hosted the three American anti-gay activists during the first week of March.
Past campaigns of anti-gay vigilantism have called out gays by name and description in the public media. This looks disturbingly like the start of a new campaign:
Oundo said the eight men would fight the vice because they were victims with a tormenting experience. "We shall expose those who refuse to abandon the practice and we shall not be intimidated because we are protected by Jesus," he asserted. "We know their operations, including a restaurant in the city centre where homosexuals wait for clients from nearby hotels."

He urged his former partners to abandon the practice, saying Uganda should become a role model in fighting the "barbarism".

He called on Juliet Mukasa, the head of the Sexual Minorities in Uganda (SMUG), Bishop Christopher Ssenyonjo, a gay rights activist and headmaster Kisule (other name withheld) to abandon the practice.

…Addressing the press conference, Family Life Network chief Stephen Langa read a statement from parents and concerned citizens, urging the Government to establish a probe to assess the prevalence of homosexuality in Uganda.
The anonymous blogger GayUganda has posted a series of panicked short posts about the news conference which was shown on three national television stations. These latest developments have him understandably nervous:
Our nice, confortable closet is well and truly blown apart. In a homophobic country, our anonymity is torn up, and we are being accused of the most heinous of crimes. We are recruiting, and teaching children homosexuality.

Damage control now is a necessity. What will follow?

Is funny that the lies and sensationalism has so caught up everyone that it is impossible for us to insist that these are lies. The lesson of history. Tell a lie about a small unpopular group, and you are able to sustain the conversation with bigger and bigger lies. Think the Hutus in Rwanda. Jews in Germany…! Stretching the point? Am I?

A witch hunt. Very possible.

Some interesting outings? Possible.

How long will I be able to continue blogging? How safe is my blogging?

But we have survived adversity before now. We will survive even this. Will kind of mean that some of us will have to stand up and take the heat. Problem may be jobs and other things. Can we beat the taint of evil? Homosexuals recruiting! Oh well.

Tough days ahead.

The papers tomorrow will be interesting. Watch this space.

(Remember some prayers for those who are outed, whether or not they are gay!)
Indeed. Remember some prayers.
Click here to see BTB's complete coverage of recent anti-gay developments in Uganda.
Scott Lively: Following The Money
Jim Burroway
March 25th, 2009
How is a well-known Holocaust revisionist able to gain so much cooperation among other anti-gay groups? Let's follow the money.
Lively's Pro Family Charitable Trust is an arm of his Abiding Truth Ministries, which is one of only twelve anti-gay hate groups listed by the the SPLC. A quick look at the trust's contributions tell an interesting story:
NARTH received three grants totalling $2000.
The Jewish ex-gay group JONAH received a grant for $500.
Richard Cohen's International Healing Foundation received a grant for $500.
Peter LaBarbera received two grants totally $2000.
Watchmen On the Walls, a group that was co-founded by Lively, received a grant for $500. The Watchmen are also listed among the SPLC's twelve anti-gay hate groups.
Paul Cameron's Family Research Institute received a grant for $300. The FRI is another of the SPLC's anti-gay hate groups.
Exodus-Affiliated ministries receiving grants include Living Stones Ministry ($250), HIS Ministry ($500), and PFOX ($750).
Other notable recipients include San Diego ex-gay gadfly James Hartline ($500), Stephen Bennett ($500) and Linda Harvey's web site, Mission America ($400).
These must be considered minimum sums. The top grant is described as being the 31st grant on a page which only lists 28 grants, so this is clearly not a complete list.
It also appears not to be an up-to-date one either. Abiding Truth Ministry's 2007 IRS 990 form (PDF; registration required) from Guidestar.org lists:
an additional grant of $750 to Linda Harvey's Mission America,
an additional grant of $300 to James Hartline
a grant of $1750 to the Pro Family Law Center in Temecula, California, a project of Lively's Abiding Truth Ministries.
Some of these values may not look like much, but most of these groups operate on a shoestring budget. Some are little more than volunteer operations much like our own vast conspiracy here at BTB (which consists only of a web site and four volunteers). So to many of these outfits, these contributions can be significant. Maybe that's why Peter LaBarbera has been carrying Lively's water the past few weeks.
[Hat tip: Warren Throckmorton]
Schmierer's & Lively's Uganda Talks Continue to Reverberate
Jim Burroway
March 23rd, 2009
We mentioned earlier that there would be a follow-up meeting for the anti-gay conference held by three American activists, including Holocaust revisionist Scott Lively and Exodus board member Don Schmierer. A follow-up meeting was called for March 15. The anonymous blogger Gay Uganda has posted an eyewitness account of that meeting.
Stephen Langa, of the Kampala-based Family Life Network was the principal speaker at the follow-up meeting. For the first part of his talk, he channeled the false pseudoscience of Exodus Board member Don Schmierer and Richard Cohen, a so-called "coach" who has been banned for life by the American Counseling Association. Gay Uganda's anonymous eyewitness reported:
In his presentation Stephan Langa said homosexuality is not about sex, it is about the search for a fatherly or motherly figure. Children with bad parenting end up becoming homosexuals as they search for mother's or father's love.

He also mentioned another cause of homosexuality as child abuse; he said that the homosexuals he has counseled have been abused as children. He sited broken families as another cause of homosexuality.

He mentioned domineering mothers and abusive fathers as another cause of homosexuality, as well as negligent father who are emotionally off with children. Exposure to pornography as another cause of homosexuality.

He said some people are lured into homosexuality by money and other social favors

Rebellion, he said some children become homosexuals because they want to be rebellious, noting that homosexuality is some kind of rebellion.

He also said same sex attraction is a disorder and quoted: Richard Cohen MA. He emphasized the point that all homosexuals can change since all disorders can be changed. Homosexuality is not genetical, it is a learned behavior and what is learned can be unlearned. (Richard Cohen MA.)
These discredited theories, of course, run counter to a significant body of science which has investigated various aspects of the origins of homosexuality. But then, as Dr. Warren Throckmorton, who defends the right of practitioners to offer sexual identity therapy, points out, "This coalition is not dedicated to ministry but political engagement."
And an important part of the political movement's tactics has been to emphasize heavily the allegations that children are recruited into the "homosexual lifestyle" through sexual abuse. These allegations were on prominent display at the follow-up meeting. In the clearest use of the allegation, Langa repeated Lively's fanciful history of the gay rights movement:
He talked about Henry Garber, who was a German American soldier in 1924, that Henry Garber sodomized Champ Simmons and Champ Simmons Sodomized Harry Hay. Then Harry Hay started the whole gay movement that gays follow to date. Source: The PINK SWASTIKA – Dr. Scott Lively.
One might be forgiven if they thought that Langa had grossly overly simplified Lively's history. But on page 150 of The Pink Swastika, Lively provides almost exactly this perverse "genealogy" in just two short sentences: "This 'peculiar fact' was that the man who recruited (Harry) Hay into homosexuality (at age seventeen), Champ Simmons, was himself seduced by a former member of the SHR. In a perverse sort of way, then, it seems appropriate that Hay would become known as 'The Father of the Modern Gay Movement'." (The SHR, or The Society of Human Rights, was founded in Chicago by Henry Gerber.)
Langa's presentation of "the gay agenda" followed on these same lines, with repeated emphasis on the false link between homosexuality and child sexual abuse. The so-called agenda began with, "They focus on who they are and what they want. They are after your children." And it ended with, "They don't care about you adults they want your sons and your daughters." The repeated warning of being "after your children," is especially troubling given that it was an incessant refrain in past Ugandan anti-gay vigilante campaigns. Reactions from the audience, therefore were predictable:
We should investigate homosexuality in Uganda

…Recruit people to become activities against homosexuality, in this case people with in the audience volunteered to be members….Find out what or who is making homosexuality prominent in Uganda.

There are many dangers and anti – social behaviors in schools which are not talked about. This was mentioned while refereeing to head teachers / teachers who are homosexuals. An emphasis that homosexual teachers should be stopped from teaching.

Participants emphasized life career developments and moral uprightness in schools The need for a strategic plan to train, teachers to identify children practicing homosexuality. The laws on homosexuality are weak, hence the need to strengthen these laws.

Parents were encouraged to participant in law making decisions in Uganda so that to strengthen the laws on homosexuality

To establish a unit at Police to deal with homosexuality
At one point in the meeting, there was this disturbing development:
…During the reactions a prominent pastor also said that they have been talking with an ex gay activist who has given them a five year plan for the gay agenda in Uganda. And they have submitted this plan to the ministry concerned, that they await reactions.
Is Exodus Board member Don Schmierer the "ex gay activist" with a five year plan? Exodus has been recklessly silent over their board member's involvement in the conference alongside a well-known holocaust revisionist and two-time entrant on the SPLC's hate groups list. And Exodus' silence continues to facilitate the chain of events that their board member has set into motion, events which may well lead to increased dangers for LGBT citizens of Uganda. Already, in this account the tensions appear to be close to the boiling point:
A participant asked a liberal question on issues of sexuality: You have associated homosexuality with all evils, defiles, child molesters etc don't you think that also heterosexuals defile or molest our children why don't you address this issue as well. He was answered: We are here to talk about homosexuality, do not divert us. After this question he was intimated, almost thrown out of the meeting.
The meeting ended with calls to "tighten the law on homosexuality." One participant told the audience that parliament was drafting a new law that "will be tough on homosexuals." Conviction of homosexual acts in Uganda already carry the threat of a life sentence. Another meeting was called for yesterday, March 22.
Don Schmierer and Scott Lively have set in motion a chain of events which have not yet played themselves out. And Exodus remains irresponsibly silent as these events continue to unfold. We will continue to watch events in Uganda very closely, and we will hold Exodus accountable for their role in lending their name to legitimize these developments.
Click here to see BTB's complete coverage of recent anti-gay developments in Uganda.
NARTH Scrubs Lively From Web Site, Cameron Remains
Jim Burroway
March 17th, 2009
Grove City College professor Warren Throckmorton noticed Holocaust revisionist Scott Lively's letter to the Russian People (where Lively advocated for the criminalization of "the public advocacy of homosexuality"), where Lively recommended "a large association of doctors and therapists in the United States who help homosexuals to recover (see www.narth.com)". That got Dr. Throckmorton thinking:
Lively's referral to NARTH made me wonder if NARTH incorporated his views in a similar manner.

Until yesterday, the answer was yes. There were six references to Mr. Lively on the NARTH website. I asked Dave Pruden if NARTH supported the positions Mr. Lively stated above (criminalization, therapy as an option to jail and limits on free speech), and he reacted quickly to remove all but one reference to his past involvement with NARTH.
That remaining reference was to PDF version of a 2005 NARTH conference report in which it was briefly noted that Scott Lively spoke during a luncheon. The PDF version of the report retains Lively's comments, but a separate HTML web page containing the same article was scrubbed. The original version contained this paragraph:
Also during the luncheon, attorney Scott Lively noted that NARTH's critics are supported by tens of millions of dollars from foundations on the left, which effectively permits them to "steer the culture through grants." In an effort to begin reversing that trend, he recently created the Pro-Family Endowment, with one of its initial grants being made to NARTH.
According to Throckmorton, Pruden said that Lively "was not invited by NARTH to speak at the 2005 luncheon but instead asked for time to make the presentation and was granted permission." Throckmorton also said that Pruden determined that "Mr. Lively's views are not consistent with the policies and views of NARTH," and took down the remaining articles in response to the inquiry.
One of those articles was a book review for Lively's Take Back the Schools, which was touted as "the latest addition to NARTH's Irving Bieber Memorial Library." The name of the book reviewer is not listed. I wonder if the book is still in NARTH's library. One other article, "'Gay Days' at Santa Rosa High" by Scott Lively continued on the same theme as the book review, while another article, "Public Schools Face Growing Demands from Gay Activists" featured an extensive quote from Lively.
Two other articles remain active, but were edited to eliminate references to Lively. In addition to the web page on the 2005 NARTH conference report, Joseph Nicolosi's "Interview with a Parents' Rights Activist: Brian Camenker" was edited to remove the line indicated in boldface:
BC: …One of the things for which I've looked to NARTH, is help in getting the scientific facts together. I really enjoyed a book by one of your Scientific Advisory Board members, Jeffrey Satinover. His Homosexuality and the Politics of Truth has been very important to us. I also liked both of Scott Lively's books…very good. That's what I find is very powerful–when you confront people with the truth.
I'm actually somewhat conflicted over this edit. While I'm glad that this endorsement is now gone from NARTH's web site, having this statement available nevertheless tells me everything I need to know about Brian Camenker's character and judgment. But in the end, it's removal is good from the standpoint of NARTH appearance of condoning Lively's policies or theories.
It's important to note that NARTH continues to carry multiple links to Paul Cameron's discredited work on their web site. Cameron, you may recall, has his own unique take on homosexuality in Nazi Germany, one in which he admires how concentration camp commandant Rudolph Höss "dealt with homosexuality." NARTH's most recent Cameron citation was in an article printed in NARTH's 2007 conference report, which isn't available online.
It's fascinating to note that one Holocaust revisionist has become an embarrassment to NARTH while another one still remains well linked on NARTH's web site and publications. I guess another way of looking at it is that Scott Lively is now more of an embarrassment to NARTH than a psychologist who has been denounced by four separate U.S. professional organizations.